Michael Ealy, LaLa Anthony and Will Packer were on the move once again yesterday and jetted to Miami for a special screening of Think Like A Man 2.  TheYBF.com was on the scene, and we've got pics and our chitchats with the stars inside... 
Last night at the REGAL South Beach, TheYBF.com mixed it up with stars from the Think Like A Man Too flick at the screening.
 
LaLa, rocking a sexy nude 5th & Mercer dress, dished on aiming for movie stardom.  Especially since she seems to play everybody's best friend in plenty of new shows and movies, from Baggage Claim to "Power" to TLAM.  She dished to us on the carpet:
"I am getting good at being the best friend. Power is on right now, it premiered Saturday, you will see my character Lakeisha Grant continue to grow and I also wrapped up a movie that Queen Latifah Executive Produced called November Room which will be out soon and I am out on the grind, figuring out my next move but in the meantime I have my book which I am turning into a movie as well, I have my clothing line for The Mercer and my makeup line Motives for LaLa. I am definitely keeping myself busy. "
 
And about whether her own Love Playbook conflicts with author Steve Harvey's rules in the TLAM series, LaLa tells us:
"No not always a guys perspective on a relationship and a woman's is totally different. There are some of the same stuff, but guys are able to take the emotion out of relationships and out of things, women on the other hand, what makes it so great is that we are so emotional but at times that hurts us and you see a lot of that in this movie. I am excited to see what everyone here in Miami thinks of the film. "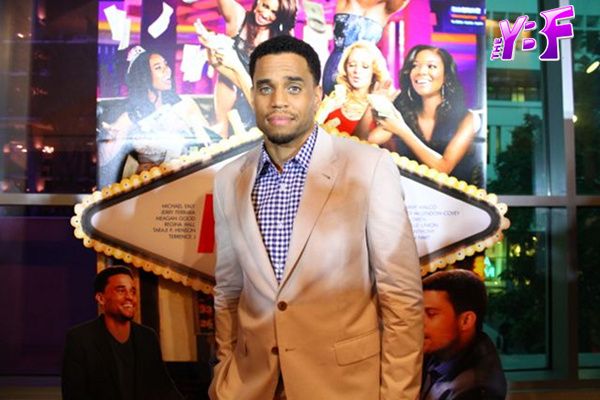 Hottie Michael Ealy showed up looking all kinds of good.  And yes ladies, the married man knows how important it is to understand the opposite sex.  We can help you understand Michael.....
(Stay tuned for that interview!)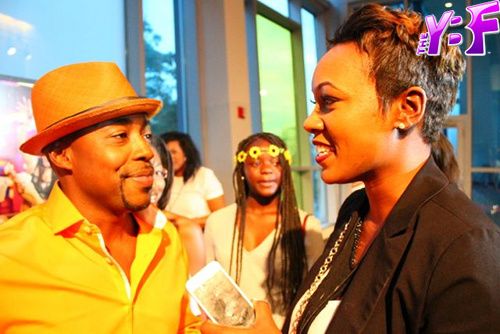 Producer Will Packer, who is about to make TLAM 2 his third box office hit of the year, revealed to our Miami Correspondent Adrienne just how he does it:
"It's about paying attention, it's about knowing what the audiences like, and it's about delivering. The expectations are a lot higher this time around. We've got to deliver more. It's bigger and better. You know what, this cast is so cool and they enjoy themselves and they like to have fun. So this movie is really like a sneak inside their lives. If you were to put them together in Vegas and told them to go have fun over the weekend, this is what would happen. It's like we just let the cameras run."
 
Loves it.
Will hit the scene with his two daughters Maya and Nija Packer (from a previous marriage) and their friends. 
And Sybrina Fulton, mom of Trayvon Martin and activist, was also there to support the film.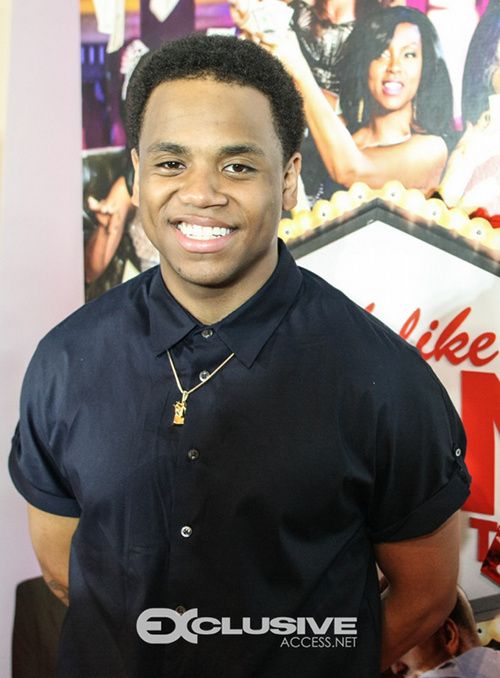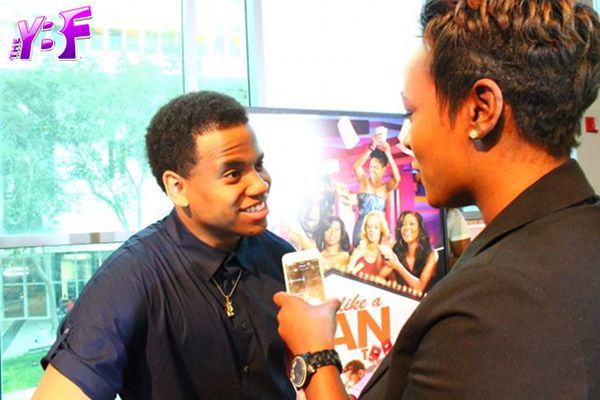 Cutie Mack Wilds gave us what makes for a good date...and a bad one.  You know, from a man's point of view.
"I mean everyone has had a horrible date. I think it's just one of those awkward energy dates, maybe I just asked a wrong question or she might have and it just turned the whole trajectory (sp)? of the date off. But yeah we all have been through one of those one or two times."
But a good one:
"When all pistols are firing off at the same time. It's when, I guess the mood is right, the set up is right, the food is right, everything complements each other that's what makes the date even better and better as the day or evening goes on."
And his take on Steve Harvey giving out "secrets" to the game:
"Kevin Hart is a fool [laughs], I love that Steve Harvey wrote a rule book, not necessarily that he is snitching or telling anybody's secret, like a players guide. If you are going to play the game this how you need to play it."
Look who else showed up: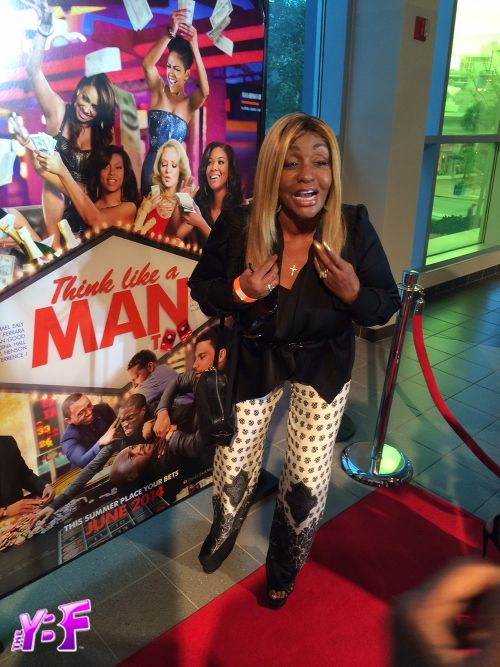 Janice Combs.  Mama Combs even told us to let her fix her wig before we snapped a pic.  And she hit the carpet with former "Real Housewives of Miami" star Karent and others.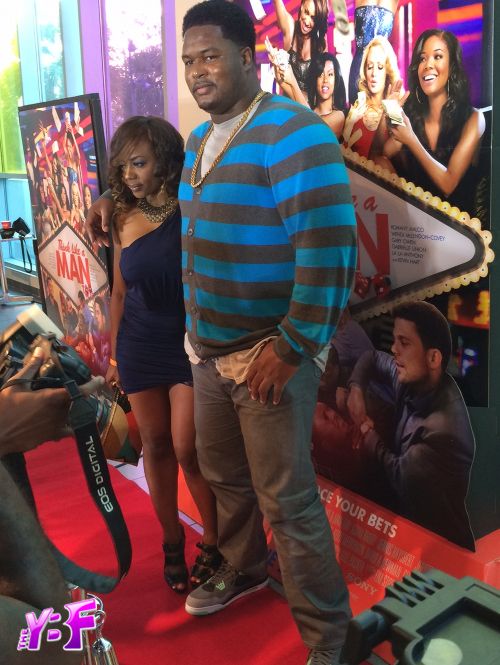 NFL free agent Bryant McKinnie brought his girlfriend on the carpet.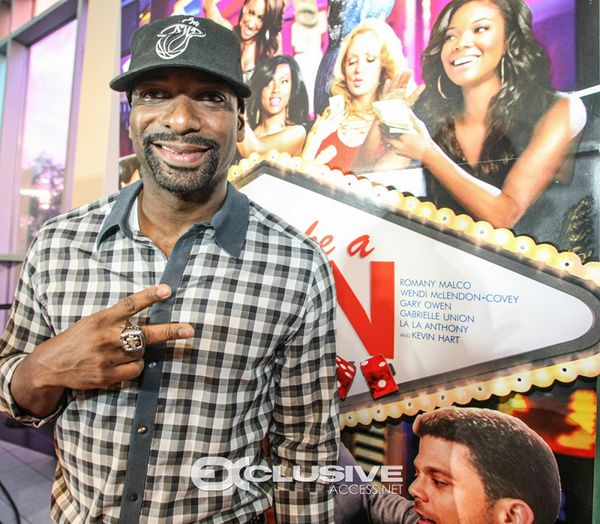 DJ Irie and legendary MLB baller Gary Sheffield came out for the event.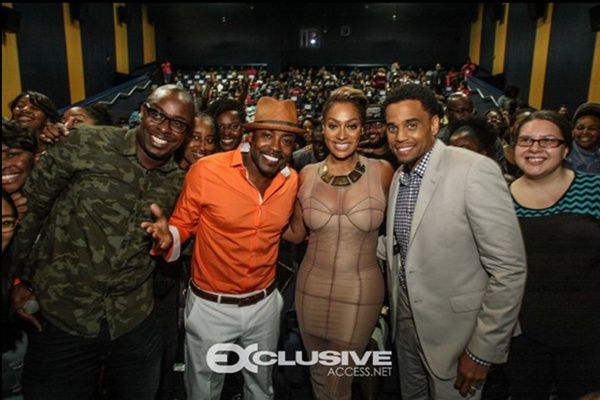 TLAM2 comes out June 20th!
Photos: ExclusiveAccess.net/DJ Apollon for TheYBF.com