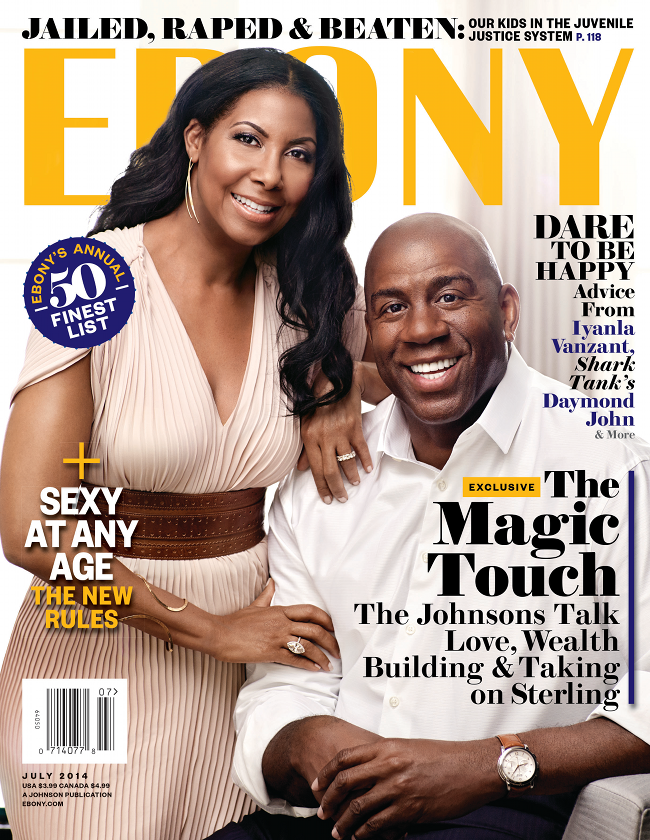 Magic Johnson and Cookie Johnson are keeping it 100 when it comes to their past marital woes.  Check out the couple, who's now 22-years-strong, covering the July 2014 issue of EBONY magazine, and what they had to say about keeping their marriage together...and that damn Donald Sterling.
Power couple Magic and Cookie Johnson are on the cover of EBONY magazine as they exclusively discuss weathering the storm around the recent controversy concerning Donald Sterling, their business endeavors, how they keep their love going as empty nesters and living life with HIV.
L.A. Dodgers part-owner Magic said about the media frenzy surrounding Sterling's remarks:
"I'm glad that I was able to stand up for our people and be the voice."
And so are we. 
The Johnsons have been married for 22 years and dated 14 years prior (wow!), so they're a couple with proven longevity.  So how are they making their love last?  The two kept it 100 aout the ups and downs, and almost ending it.
Cookie admitted:
"We had our ups and downs.  We had a period where we were about to separate. There was a point where I was home all the time; he was working," she continued. "Sometimes you start growing apart a little because he's seeing new adventurous stuff. He's out in the world. He's growing. [But] I'm stagnant." 
Magic revealed that it was he who had to learn to make changes.
"If I had kept going [that way] and the kids left, we would probably be divorced.  Now we're so connected to each other, but it took that situation to bring us back." He also added, "I've always told Cookie, 'The only thing I wanted was to grow old with you.' [Now] we just look at each other and say how blessed we are." 
Meanwhile, Cookie has become a businesswoman herself with her own premium denim line, CJ, and Magic admits it made him look at her in a new light.
"It's so sexy," he says with a wink. "It is beautiful to see her become this brand; this CEO."
Get it!
The In the issue, which hits stands today, the couple discusses Magic's HIV status and being thankful he can see his kids grow up, the Johnson's sense of fashion, their children, and being empty-nesters now that EJ and sister and brother are out of the house.
The Randomness:
1.  Sasha Obama is a teenager!  The First Daughter turns the big 1-3 today.