Beyoncé Knowles stepped out in Manhattan yesterday for another leaving-the-office sighting.  But this time around, her M.I.A. bodyguard was back in tow.  And now, so are the pregnancy rumors.  Deets and pics inside....
Mrs. Carter has been rocking plenty of loose fitting fabrics and fitted pencil skirts with WIDE belts (often that seem unnecessary) lately.  So when Blue's mom stepped out in a white Isabel Marant "Tia" embroidered blouse with the matching Isabel Marant boho chic skirt and a totally oversized Tom Ford "Alix" bag, it raised a few eyebrows.
Not just because bodyguard Julius was back by her side after only being seen 1-2 times since Elevatorgate....but because some foks believe she's hidin a baby bump: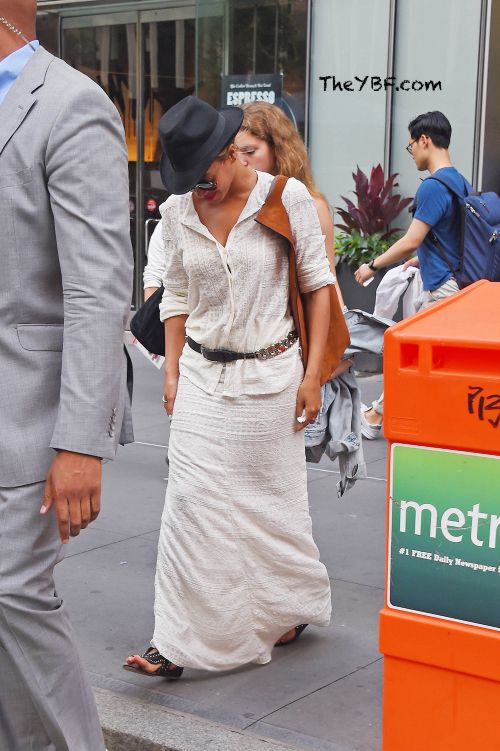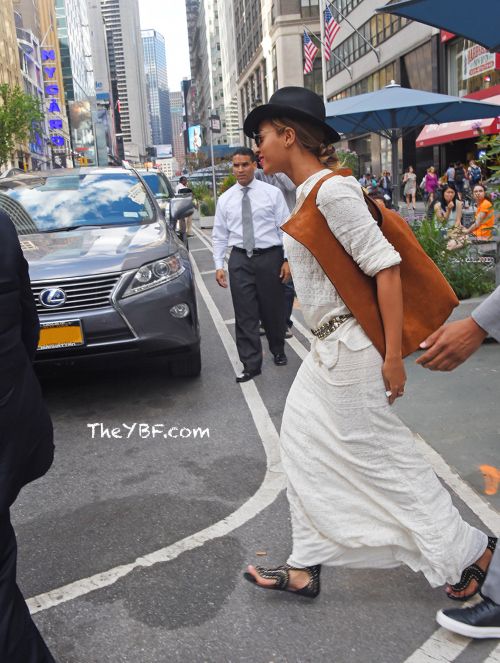 Many of the BeyHive commented on similar pics on a Beyonce fan site about the pop Queen possibly covering up a baby bump under this look.  And since she's got a HUGE On The Run tour coming up this month with her husband, it makes since she would hide it at first, IF true. 
Also, if true, it could explain why she had no parts of getting in between her husband and her sister during that elevator fight. 
Or...it could just be that the "Partition" chick loves a flowy summer style on some days.  It does get hot as all hell in NYC.
We're not totally convinced she's got baby #2 on the way....yet.  Time will tell. 
Photos: Splash