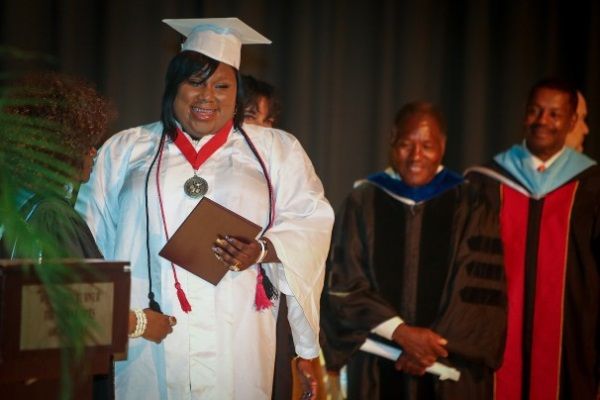 Rachel Jeantel, the good friend of Trayvon Martin who gained noteriety after her viral testimony, defied all the odds and received her high school diploma recently.  Find out about her post-graduation plans inside and see what her mentors said about her growth and development.
Months have passed since the racial-charged George Zimmerman trial turned 20-year-old Rachel Jeantel into a national "hot topic" where critics  focused more on her skin tone, weight, dialect and assumed education level than the tragic death of her friend Trayvon Martin.  Despite the backlash, something good did come out of the tragedy. 
The media attention created a village of supporters who rallied around Rachel to make sure that she had a shot at success.
Since she's been out of the spotlight, Rachel, whose reading skills were once assessed at a fourth-grade level, has received her high school diploma from the Academy for Community Education in Miami.  And she's officially a member of the Class of 2014.
In a recent profile published by The Washington Post, her friends admit that the road to graduation was not easy, but Rachel's "village" made she sure didn't get left behind.  Radio personality Tom Joynersaid,
"I think the thing that moved me most was when the attorney kept asking her questions and she kept saying, 'You're not listening to me.' And it occurred to me, 'Yeah, not only was that attorney not listening to her, but I think that none of us were listening to the Rachel Jeantels of the world.'"
Roderick Vereen, a high-profiled lawyer who helped engineer an educational program for Rachel added, "ten months agoher word choice was terrible. She didn't know how to communicate or express herself clearly. Rachel has learned to confide with adults. She has become very open now."
Going forward, Rachel admits that she's not clear about the path her future will take, but she's seriously considering going to fashion school or taking up Tom Joyner on his offer to attend a four-year HBCU....where he already offered pick up the tab.
Congrats Rachel (and to all the Class of 2014 graduates)!
Photo via Angel Valentin/The Washington Post