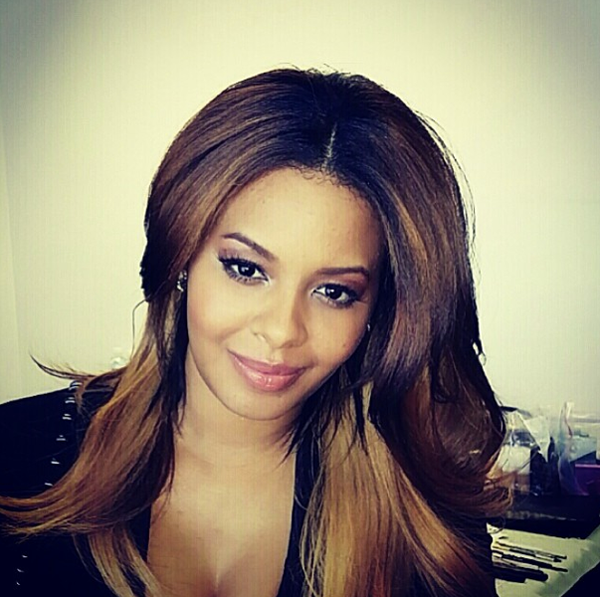 Fab new mommy Vanessa Simmons has landed a new gig as a host for a new fashion designing show on Lifetime. Also coming to the network, for some reason, a new series following four African-American women who give makeovers to white women to help restore their confidence. Get all the deets inside…
Vanessa Simmons is getting back to work and will now juggle motherhood with newborn Ava Marie Wayans and her career now that she's landed a hosting gig on a new Lifetime series, "Threads"
America's most talented aspiring fashion designers will be competing for a whopping $25,000 prize, a scholarship to the Fashion Institute of Design & Merchandising (FIDM) in Los Angeles and a top of the line sewing and embroidery studio courtesy of Brother International Corporation.
Each week, three new contestants will put their designing skills to the test in fast-paced, unpredictable challenges to take home the grand prize. This definitely screams "Project Runway" geared toward a younger audience.
Ava's mommy is joining judges "Project Runway" season 4 winner Christian Siriano, Seventeen Fashion Director Gina Kelly, Accessories Editor Jasmine Snow and YouTube style guru Ingrid Nilsen.  And actress/dancer Zendaya will also be brought on as a special guest.
Can't wait!
And in another new Lifetime series….
"Girlfriend Intervention" is a new unscripted series following four stylish African American women who are seeking white women to give them complete makeovers to help make positive change in their lives.
The four hosts consist of beauty pro Tracy Balan, home & sanctuary guru Nikki Chu, style & fashion maven Tiffiny Dixon and soul coach Tanisha Thomas.
In the press release about the show:
Making over their wardrobes, beauty routines, homes and minds, they teach these women how to embrace and celebrate their lives, speak their mind, lighten up and love themselves again. Our four experts carry themselves with a great deal of pride, style and, most importantly, self-confidence. Where does it come from and how can it be obtained? Who better to teach a woman how to get that sparkle in her eye and spring back in her step? Each week, Girlfriend Intervention follows a woman whose personal space and self-esteem are in desperate need of a major makeover and a life-giving dose of diva inspiration.
Will you be watching?
Photos: Vanessa Simmon's IG