From 5...to 4...to 3. It looks like Aundrea Fimbres is leaving Danity Kane afterall. But not totally. Check out the big announcement at last night's show in San Francisco about Aundrea leaving the group to have a family inside...
In the middle of their San Francisco show (pictured above backstage) at the Fillmore during their No Filter comeback tour, Danity Kane made a big announcement.  This week, rumors spun that Aundrea was leaving the group.  But Aubrey O'Day seemed to squash the rumors by posting rehearsal pics with Aundrea included.
Now, it's all been explained.  Aundrea took the stage last night to reveal she's engaged, and leaving the group to pursue her other dream of having a family. We've learned she'll be staying on the tour to perform the old songs, not the new ones.
She brought her soon-to-be stepdaughter on stage to help her make an announcement.
"It's been two dreams of mine for me to be a singer, and to have a family. And I'm going to have both in a couple months."
She ended by saying she's going to let Shannon, Dawn and Aubrey take over while she goes to have some babies.  Many took that as she's CURRENTLY pregnant, especially with what looks like a protruding baby bump hiding underneath that bustier.  However, a fan site claims she actually isn't, based on her mother denying the rumors.
In her speech Aundrea never said she was pregnant but starting a family. And apparently her mother confirmed that she is NOT pregnant.

— Danity Kane France (@DanityKaneFR) May 17, 2014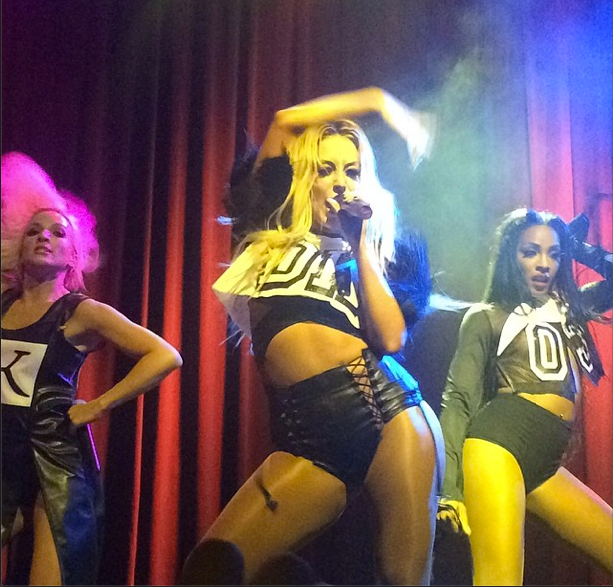 Check out video of the new DK 3 performing their new songs "Lemonade" and "Rage", and performances--with Aundrea-- of "Damaged" and more:
Photos: BobbyNewberry's IG/BrooklynGabbana's IG