Sevyn Streeter was in the do-gooder spirit.  So she surprised a Cleveland teen with a shopping spree for prom and also shocked his peers with a surprise performance at their school. See the priceless look on the young teen's face and hear new music from Columbus Short when you go inside…
Just in time before the most memorable night in his high school career, R&B songstress Sevyn Streeter surprised a Cleveland high school student with a shopping spree to get him extra dapper for prom.
Unbeknownst to him, the "It Won't Stop" singer walked into Cleveland Heights High School to personally greet him with the good news as he sat in class. Soon as Sevyn walked in, the young man quickly grabbed all of his things so they could make their way to the mall.
Sevyn personally picked out pieces for the teen, took him to get a fresh cut and bought him along for a radio interview. Cute.
After hanging out with the prom winner for a day, Sevyn came back to his high school and shocked all of his peers with a surprise performance. Nice.
Sevyn surprises teen during class:
Sevyn's surprise performance:
Also...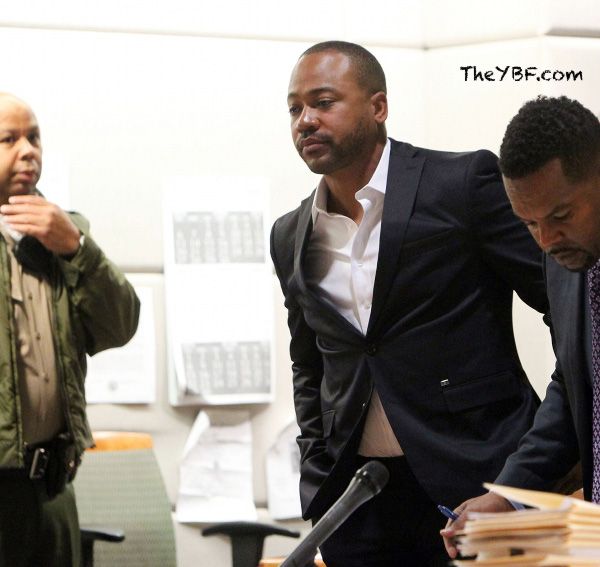 Former "Scandal" star Columbus Short went before a judge today (above) and entered a not guilty plea on a felony battery charge after allegedly going straight B-613 style on a man in a bar this past March.
You'll recall that brawl in L.A. went down after the man allegedly insulted him during a couple's engagement party. Columbus left the guy with a broken nose and knocked him unconscious for several minutes…supposedly.
The "Got Ya" singer's attorney tried to fast track the case but since the man's injuries were so severe, his request was rejected. Had his case been eligible, he could have kept all of the messy details under wraps and settled the case.
Columbus will head back to court on June 5th for the preliminary hearing of his case. And let's not forget, his wife has filed for divorce and a restraining order against him after he allegedly threatened to kill her and himself. Wonder if this will come into play when he heads back to court.
But, the actor turned singer isn't letting his recent public drama stop him from pursuing his other passion…music. After releasing his single "Gave Ya,"Columbus is currently working on new material for his new album. We got our hands on a secret recording of a new track, tentatively titled, "Mumble."
In the raw and uncut recording, the former gladiator is heard freestlying lyrics as he plays the piano to create the new R&B track. No word on where this song will end up on his album or even if it will actually become a song, but it doesn't sound half bad.
Hear Columbus' "Mumble" below.
Photos: Splash/Sevyn's IG