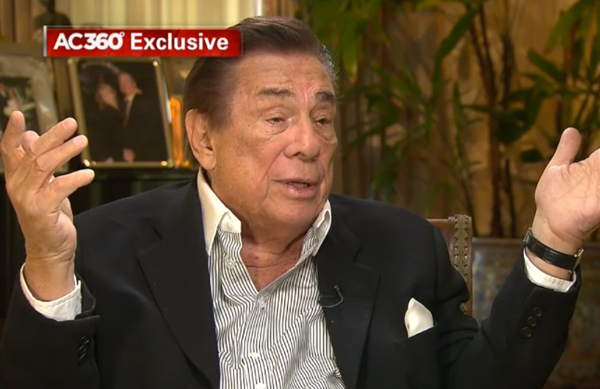 Last night, Donald Sterling's first interview with CNN aired.  Hear the disgusting remarks made by Sterling about Magic Johnson inside and see Magic's response…
After NBA Commissioner Adam Silver named Dick Parsons as the interim CEO of the Los Angeles Clippers, Donald Sterling sat down with Anderson Cooper for his very first interview since his racist rant against black people was aired publicly.
During the interview for Anderson's "AC360," Donald berated former NBA player Magic Johnson for sleeping around with different women, contracting HIV back in 1991.
"He acts so holy. I mean he made love to every girl in every city in America and he had AIDS. And when he had those AIDS, I went to my synagogue and I prayed for him. I didn't criticize him. I could have. Is he an example for children?"
Donald then went on to chastise Magic over contracting HIV and (what he believes) lack of helping people of his own race. He said,
"What has he done? Can you tell me? Big Magic Johnson, what has he done? He's got AIDS. Has he helped anybody in south L.A.? What kind of a guy goes to every city have sex with every girl and catches HIV. Is that someone we want to respect and tell our kids about? I think he should be ashamed of himself! I think he should go into the background. What does he do for the black people? Doesn't do anything. He does NOTHING. He's all talk"

  
Magic Johnson commented on Sterling's interview via Twitter last night tweeting:
I'd rather be talking about these great NBA Playoffs than Donald Sterling's interview.

— Earvin Magic Johnson (@MagicJohnson) May 13, 2014
After this week, no more Sterling talk. Just the NBA Playoffs, my @Dodgers and my @LA_Sparks!

— Earvin Magic Johnson (@MagicJohnson) May 13, 2014
Check out Donald's full interview below:
Thoughts?
Photos: CNN