Just as we expected, The Carters are about to act like nothing ever happened...as if little sis Solangedidn't just go all Miss Third Ward on her brother-in-law in a damn elevator last week with the footage now up for public consumption.
Check out Beyonce & Jay Z laughing it up courtside at tonight's Game 4 playoff game in BK, plus sources claiming that Solange also popped off on designer Rachel Roy before her elevator fight with Jay...
The Carters appear unfazed and unbothered by the events that transpired on the internet streets today.  Surveillance video of Solange Knowles going HARD on Jiggaman and physically attacking him inside the elevator of a MET Ball after party at The Standard Hotel last week leaked today.  And since there's no sound, it's almost impossible to fully confirm exactly what they were fighting about. 
But context clues tell us SOMETHING occurred to piss off Solange--whether it was Jay or somebody (or something) else that caused it.   After Beyonce, Jay, Julius and Solo all hopping in the elevator, the "Losing You" singer tapped into her Houston 3rd Ward roots.  She swung on her own brother-in-law and kicked him several times.  Bodyguard Julius had to intervene, restrain her, and stop the elevator...while Beyonce sunk into the wall and every now and then positioned herself in between the two.
You would think all that family drama leaking out would have you in the house for a few days.  Nah, the Carters are right there at the Barclays Center cheering on the Nets during Game 4 of the playoffs tonight:
Beyoncé & Jay Z at the Nets game tonight pic.twitter.com/mt4hDSoxn5

— Beyoncé Lite (@BeyonceLite) May 13, 2014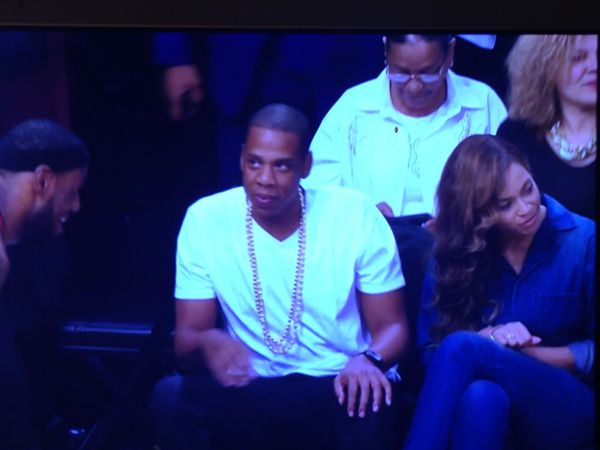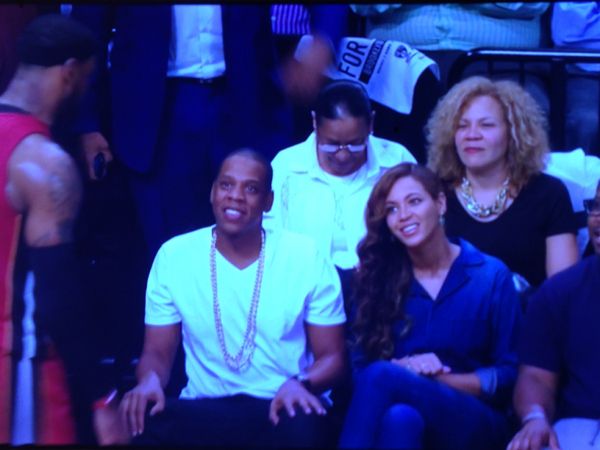 And looking WAY happier doing so than they did at Saturday night's game.
By the way, a new report from Us Weekly is claiming that whooping up on her brother-in-law in the newly leaked video was NOT Solange's first altercation of the night.  Apparently, designer Rachel Roy was also at the MET Ball and afterparty inside The Standard at The Boom Boom Room.  And Solo had some words for her as well, allegedly.
A source tells Us Weekly that Beyonce's younger sister had yelled at designer Rachel Roy earlier at the after party, which was held at the Boom Boom Room in the Standard Hotel.

The source added that, during the disagreement, Beyonce "got in the middle of it," though it remains unclear what it was about. According to another insider, Solange was yelling at a number of people; Roy, it turns out, was included in that group.
Sounds like Solo was possibly on 'that brown'....or something...MET Ball night.  Y'all know brown liquor causes you to act out.  A source tells Us Weekly the fight with Jay was all over Solange taking something he said the wrong way:
One source told Us, "Solange flipped out over something Jay had said, that she took the wrong way. She took it too hard or too far. Not sure what it was, but she greatly overreacted.

Once the trio departed the elevator, Solange walked ahead of Beyonce and her husband, who was photographed touching his face with a stunned expression. "Beyonce tried to stay out of it," another source told Us. "She does not approve of violence. They are trying to put the situation past them now."
But something tells us this foolywangery was FAR from the first time....
And that alleged tweet from Solange floating around talked about "hitting a hoe who hits her", it's very likely a fake.  Check out the fake tweet below: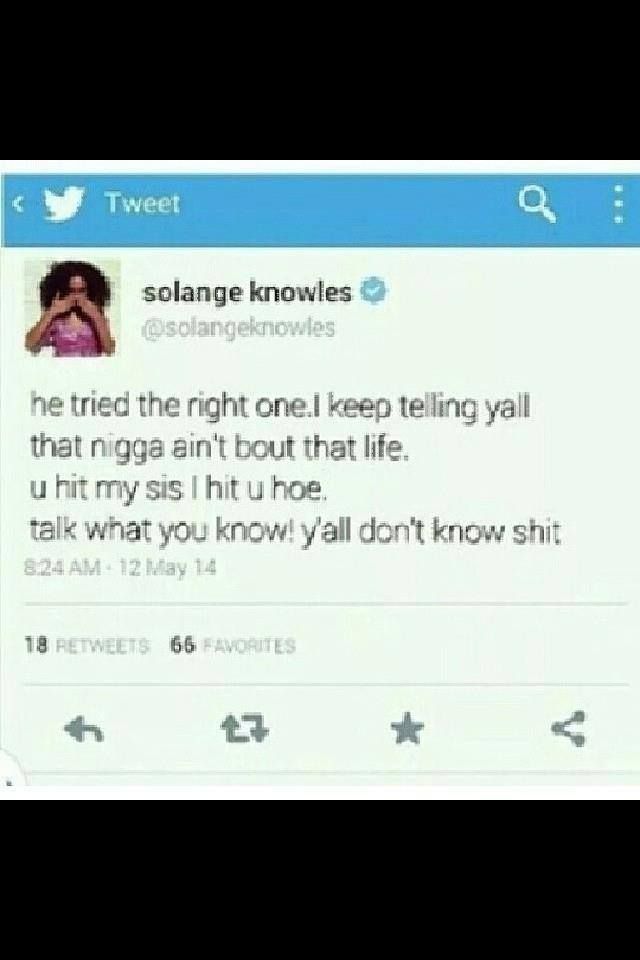 Her current tweet about Delta airlines has the exact same timestamp:
lol, no they've just been extra kind to everyone who walked on board:) "@MeJill: @Delta let me guess…they gave you extra Biscoff cookies!"

— solange knowles (@solangeknowles) May 12, 2014
So someone likely used that tweet to flex their photoshop skills.
Photos: Getty/TNT