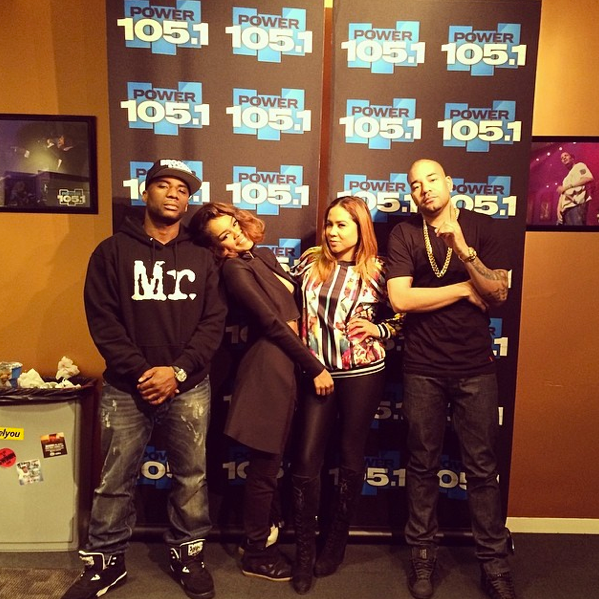 Teyana Taylor is breaking her silence about her love triangle with her ex-fiance Brandon Jennings and her former friend Tae Heckard. Tey also dished on her "beef" with Rihanna. Hear what G.O.O.D. Music's First Lady had to say inside…
So…we've been following all of the drama between Nelly, Ashanti, Tae Heckard, Brandon Jennings and Teyana Taylor. First it seemed Nelly was with Ashantithen moved on to Tae. But then it seemed Tae had moved on with Pistons player Brandon Jennings, who is Teyana's ex-fiance. And to make matters worse, Teyana and Tae were once friends. Chile...
Today, Teyana opened up on The Breakfast Club about the situation, breaking down what really went down and how real her relationship with Brandon really was. Yes...they were actually engaged and had been on-and-off over several years.
You'll recall, Brandon recently announced that his relationship with model/vixen Tae Heckard is his first "real" relationship (after dating Tae all of two mintues).  Y'all know that ish cut deep.
G.O.O.D. Music's First Lady admitted she was hurt that Brandon publicly downplayed their relationship and is more hurt and disappointed that someone she once called a friend (whom she had been friends with since she was 17) betrayed her the way Tae did. She admitted to finding out about their relationship via the blogs.
"Brandon doesn't shock me anymore so my issue is not with Brandon. I'm not even upset because I know him. My issue is with Tae because that was my friend."
Damn!
Tey came with her receipts, pulling out her phone to pull up text message conversations she had with both Tae and Brandon. She dished on phone conversations she had with Brandon's new fiancée and revealed Tae's best friend Olori Swank (celebrity stylist) TOLD Tae about her previous relationship with the NBA player, so that "Oh I didn't know" ish wasn't going to fly.
"My issue with Tae is that what she did was wrong. This not the first time she done it to just anybody period. You're 36, he's 24…are you willing to deal with any dude this irresponsible to give you a child?"
Bloop!
And about that virginity thing…Tey admitted she lost her virginity to Brandon two years after they were engaged (about 2 years ago).
So can she ever forgive Tae and become friends again? "Absolutely not, that's gross," she said.
But don't feel sorry for Teyana. She revealed she's currently dating someone else and she's moving on.
Also during the interview, Teyana dished on her public spat with Pop princess Rihanna. When asked if she lost her Adidas deal because of her public Twitter beef with the "Diamonds" singer she responded, "I mean that's what the statement said right? She didn't cause me to lose anything. God makes no mistakes." 
She admitted that she and RiRi are cool (or at least use to be) but her loyalty lies with her brother, Chris Brown.
Alrighty then.
Check the entire interview:
Photos: Angela Yee's IG/Olori's IG