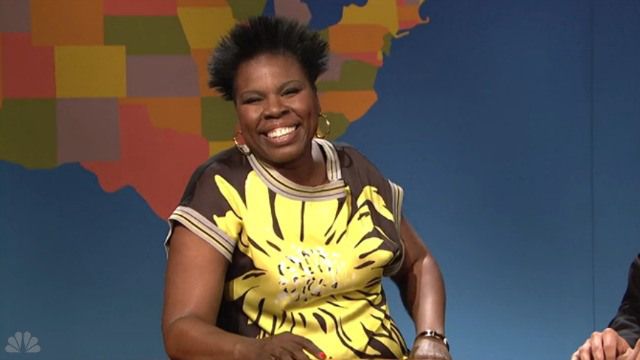 Comedienne Leslie Jones has drawn fire for an SNL skit that featured "jokes" about slavery that many found offensive.  Watch the skit and weigh in.....
Outside of the brilliant "The Beygency" skit, SNL other "most talked about moment" came via SNL writer Leslie Jones who appeared during the Weekend Update segment.  Leslie's cringe-worthy segment was peppered with "jokes" about slavery, breeding and a pseudo-takedown of Lupita Nyong'o.
On social media, many people voiced their outrage (and that made Leslie defensive):
Ebony's Senior Editor Jamilah Lemieux said,
"I don't know if she's just doubling down and committing to defending a completely indefensible (IT WASN'T REALLY WASN'T FUNNY, MA) skit, or if she really just doesn't grasp what was wrong with it. But it's depressing that Jones would play out her own issues with feeling undesirable in a way that not only made her, in that moment, perhaps as unattractive as humanly possible, but also mocked other Black women who may be taller, larger or outside the 'norm' in the process. Comedy can be cathartic, dark, subversive...but that takes skill that wasn't displayed here. She didn't call to question why women like her are, by her accounts, less wanted than the Lupitas and Beyonces of the world; she talked about fighting Crips for a White dude and popping out NBA-worthy babies on demand."
Is this much ado about nothing....or was this skit offensive?   So far....no one from the SNL camp has addressed the controversy.  Should they? 
SPEAK ON IT?
EXTRAS:
1.  A man claiming to be Boko Haram leader Abubakar Shekau said in a video first obtained by Agence France-Presse that he kidnapped over 200 Nigerian school girls. He said, "I abducted your girls. I will sell them in the market," Government officials in Nigeria are working on the safe return of the young girls. Story.