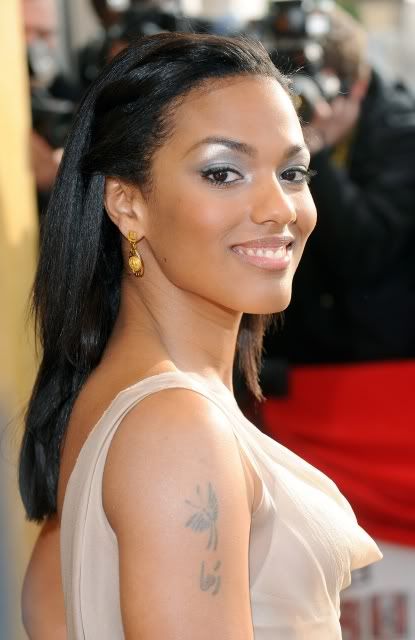 British YBF actress Freema Agyeman has just landed a coveted role on the upcoming "Sex And The City" prequel series. Get the deets inside and find out what Mona Scott-Young had to say about Yandy, Chrissy, Jim Jones and a "Love & Hip Hop" spinoff....
Gorgeous chick Freema Agyeman has landed one of the most coveted slots in Hollywood right now as she will star on the new CW series "The Carrie Diaries." 
Billed as the prequel to the HBO series, Freema will play Larissa, a hip, cutting-edge editor/party girl who works at "Interview" magazine and who serves as Carrie Bradshaw's mentor when she arrives in NYC in the 1980s.  Freema recently starred in "Law & Order: UK" and "Doctor Who."
She will star alongside AnnaSophia Robb, who will take on the starring role of the young Carrie Bradshaw. 
Candice Bushnell (the author of the books), along with Josh Schwartz, Stephanie Savage, Len Goldstein and Amy B. Harris, will produce the show.
Congrats Freema!
Also on tv........
"Love & Hip Hop" creator, Mona Scott-Young, chatted with Justthefab.com where she revealed she is currently casting for the Atlanta version of the hit series.  Though she wouldn't name names, she said that she is excited about the series and it will stay true to the "Atlanta" feel. 
When asked about the Chrissy and Jim Jones situation, Mona said she adores Chrissy but thinks the toll of having the camera expose intimate details of her life was overwhelming.  She added, "Right now I'm giving her some time and Im hoping things will calm down and she'll feel a little bit better." SIDEBAR:  Seems like Chrissy isn't on board for season 3 yet!
When asked about Yandy, she said she thinks Yandy grew from the rollercoaster experience but admits it did have some serious repercussions for her (e.g. ending her business relationship with Jim).