May is Black Music Month and to celebrate, EBONY magazine made a special tribute to the game changers in the music industry today. Check Beyonce, Jay Z, Rihanna and Kanye West cover EBONY's newest issue inside…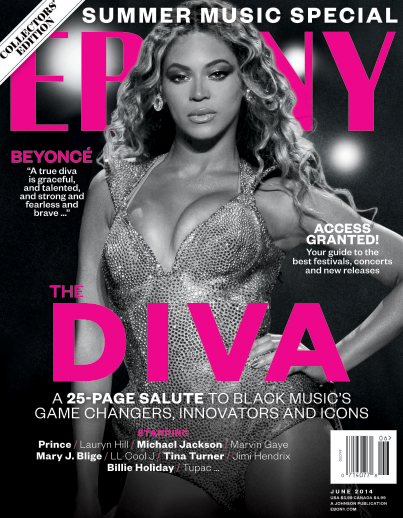 Music titans Beyonce, Jay Z, Rihanna and Kanye West have landed on four different covers for EBONY Magazine's Black Music Month special collector's June issue.
EBONY is celebrating the accomplishments of pioneers and industry leaders in the entertainment industry who have paved the way for younger generations.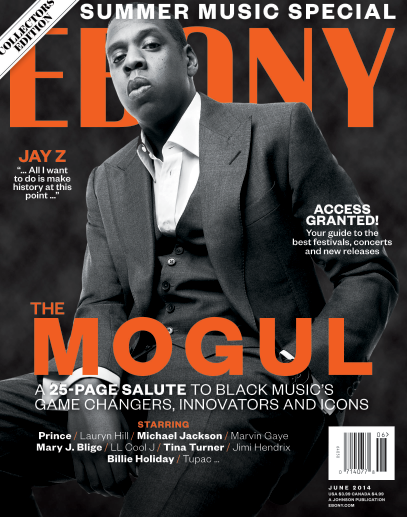 Urban music writer Kevin Powell dished on writing the cover stories for the special issue, revealing similarities of musical greats from the past and present as they fall into the four categories, "Diva," "Mogul," "Rebel," and "Poet."
"It was an honor to write the four cover stories for EBONY magazine's Black Music Month special collector's edition, and to also pen the additional four mini-features inside," said Powell. "Rarely do you see today's unstoppable stars like Beyoncé, Rihanna, Kanye West and Jay Z packaged with legends like Tina Turner, Donna Summer or Tupac Shakur, but we did it because when it comes to Black music, it is important to note the deep connection between the musicians of yesterday and today," he added.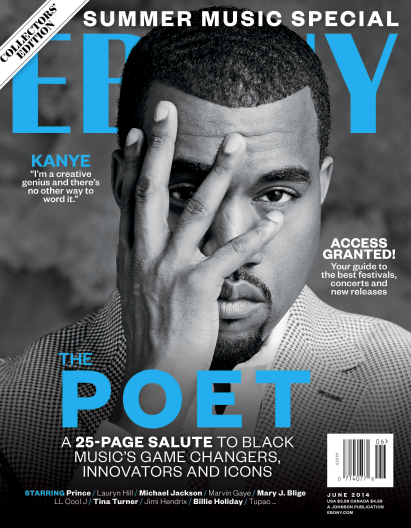 Kevin made an example of how Kanye and Tupac's lives are recognized as the "poets" who defined their own rules saying,
"They are brothers from another planet – the one they built themselves," said Powell in the article as he referenced Kanye and Tupac. "Love them or hate them, there is no denying that these two bad boys of hip-hop make our culture so electric and so hard to ignore."
In addition to Bey, Jay, Rih and Ye, the issue also highlights musical greats such as Usher, Prince, Lauryn Hill and Mary J. Blige.
And they couldn't forget to mention legendary artists such as Thelonious Monk, Miles Davis, John Coltrane, and Art Blakey who are all artists from the most respected running Jazz label, Blue Records.
You can check out EBONY's summer music special issues on newsstands May 6th.
And in another magaine...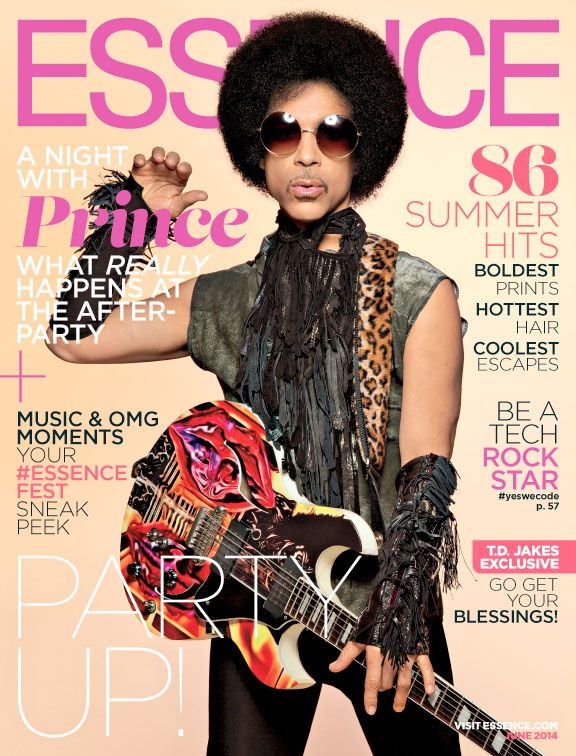 We gave you a sneak peekof legendary artist Prince gracing the cover of the June 2014 issue of Essence and now the official cover has surfaced.
Under a new agreement with his old label Warner Bros., Prince dished on whether he will work with his band The Revolution again and dealing with record label execs that who would rather take long vacations over working.
On working with The Revolution:
"I'm not putting down The Revolution, even though people would love to see us together again. I owe a great debt to them. But I'm doing something else..."

On record execs:
"Every time I talk to the heads of large companies, they're always at the beach," said Prince. "Middle of the afternoon. What are you doing? 'Oh, I'm at the beach with my kids.' So we're working to send their kids to college. And to the beach. We're not supposed to accept that."

 
Prince also released a statement recently, revealing he's working on a new studio album saying,
"A brand new studio album is on the way and both Warner Bros. Records and Eye are quite pleased with the results of the negotiations and look forward to a fruitful working relationship," Prince said in a statement.
The Purple One will be headling at the 20th anniversary ESSENCE Festival in New Orleans for the 4th of July. Can't wait.
Photos: EBONY/Essence