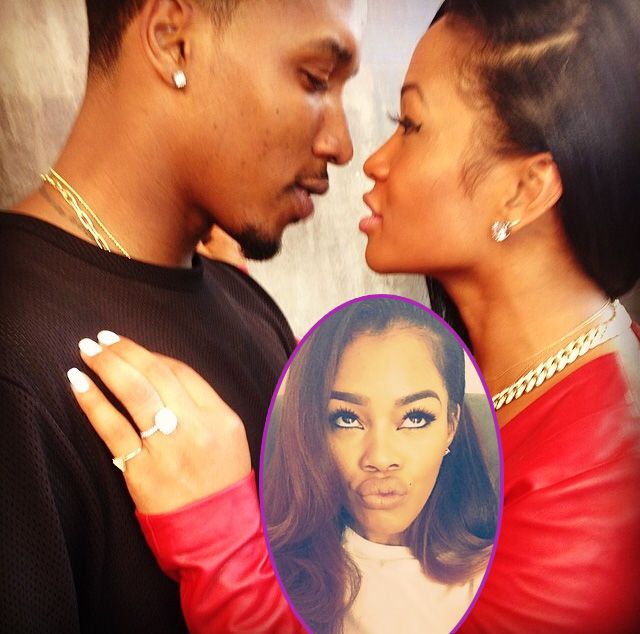 After dating for all of two minutes, Brandon Jennings is speaking out to let everyone know that his love for Tae Heckard is the real deal. And every relationship before that didn't count. So…being (allegedly) engaged to Teyana Taylor meant nothing? Tey def had someting to say about it.  Deets inside…
Detroit Pistons baller Brandon Jennings took to his Twitter yesterday to declare his love for his girlfriend (or possible fiancée) Tae Heckard and announced every relationship before that basically meant nothing. Shots fired! 
Brandon and Teyana Taylor (above) were in a previous relationship a few years ago.  According to rumors, Teyana believe he dumped her because she wasn't trying to give up the goods (you know, she claims--at least a few years ago--that she's a virgin). There were also unconfirmed rumors that the two had gotten engaged but neither of them confirmed or denied those rumors.
Now the NBA baller is clearing the air, letting the world know that his current relationship with Tae is his first "REAL" public relationship...and that she makes him happy.
Here are the receipts:
 
Oh?
Known for speaking her mind on Twitter (remember that spat she had with Rihanna?), Teyana took to her social media accounts and posted some not so subtle subliminals.
First, she may have subliminally got at Brandon:
Then seemed to have fired a subiminal shot at Tae, because you know they were once' friends':
Bloop!
Photos: Brandon's Twitter/Teyana's IG & Twitter