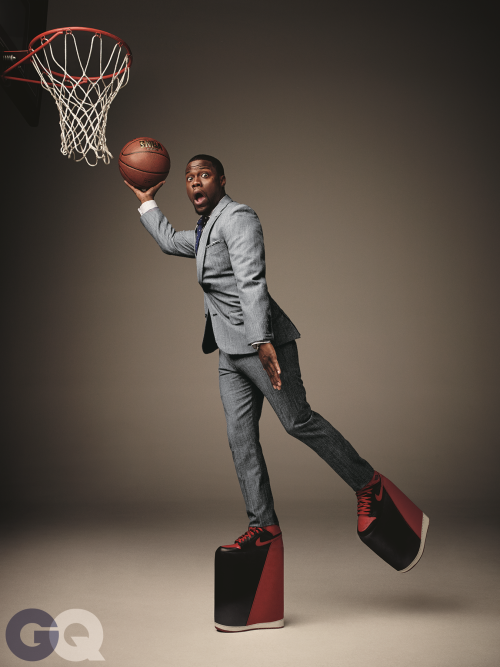 Think Like A Man Too star Kevin Hart talked to GQ this month about growing up in the Hart household and how me learned to respect money.  More inside... 
On the heels of a successful run with BET's "Real Husbands Of Hollywood" and the hit films Ride Along and About Last Night...and hitting up the New Orleans JazzFest this past weekend with girlfriend Eniko, Kevin Hart sat down with GQ for the May 2014 issue. 
In a profile titled "Walking Tall with Kevin Hart", the biggest little man in Hollywood recants stories from childhood (his mom definitely believed in corporal punishment), learning to respect money (he blew his first big advance on clothes), and getting along with his reality star ex-wifeTorrei Hart (he says they're happy..finally).
Here are the highlights:
On his core audience:
"You make yourself broad. You make yourself appealing. 'Hey, y'all, I'm cool with everybody.' That's my message."
On his upbringing:
"I got the stern end of the stick. It was kind of that iron fist. I am who I am today because of my mother."
On where the money went from his first development deal with ABC:
"I don't know where the hell it went. It's all in throwback jerseys and bomber jackets. That's why I have so much respect for money now."
On being on good terms with his ex-wife, actress Torrei Hart:
"We're very happy in the Hart household right now."
Kevin's Think Like A Man Too hits theatres on June 20th.  The May 2014 issue of GQ is available now.
Photo via Peter Yang/GQ