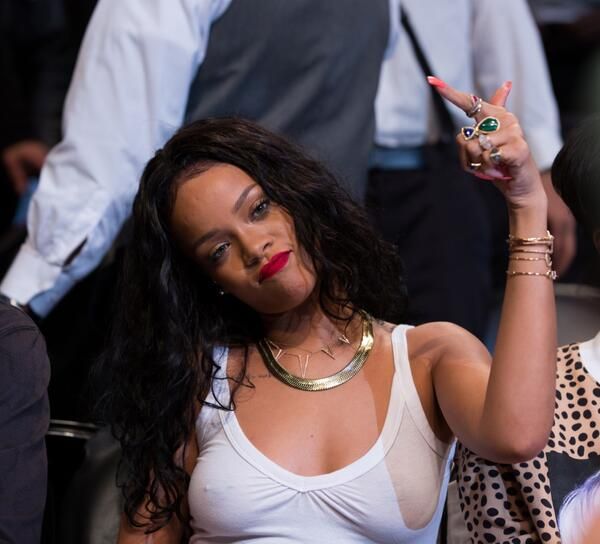 Rihanna was living it up courtside at the Barclays center for the Brooklyn vs. Toronto NBA payoff game Friday night.  But it's who she hit the game with....and what she forgot at home that had folks all a-Twitter.  Deets inside...
Oh, hey Rih.  And Rih's nips.  As soon as Rihanna walked into the Barclays Center to take her courtside seat, everyone had something to say about her bra-less, see-through white shirt that put her boobs on full display.
The hottie strutted in with her tight ripped jeans, her bestie Melissa....and top NBA draft prospect James Young:
It's an odd pairing on the surface, but we did some digging and learned that James Young is not only a top NBA draft pick, but he also played on Drake's fave NCAA team, the University of Kentucky.
Drake was even spotted rocking his special created James Young logo jersey at the NCAA championship game a few weeks ago:
Interestingly, there have been (unconfirmed) rumors that Drake and Rihanna have cooled off their hot new relationship they never admitted to. 
Maybe Drake just wanted his homie James and his homie-lover-friend Rihanna to bond over courtside tickets to see Toronto--the NBA team he's the official ambassador for.
Or maybe....
Photos/Videos: Brooklyn Nets' IG/ripcity3232's IG/rihannanavi420's IG