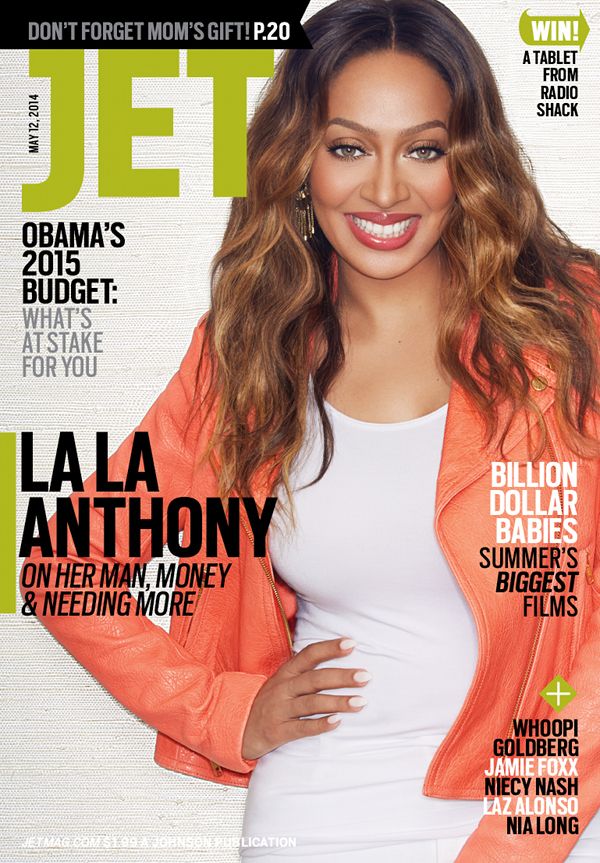 LaLa Anthony is keeping it cute on the cover of JET magazine's newest issue.  And the reality star is informing the ladies of how to have it all...but it takes blood, sweat, stilettos...and sex.
Check out the highlights inside,
With a brand new shoot for JET magazine, NYT Best Selling Author LaLa Anthony is dishing up some pointers about how to keep your relationship tight and right. 
She seemingly has it all-- a new movie (Think Like A Man Too) on the way, more time with her NBA star hubby Carmelo (now that he's officially in the off season), a successful book– The Love Playbook: Rules for Love, Sex and Happiness, the clothing line 5th & Mercer, and her reality television show that returns next month to VH1, "La La's Full Court Life."
Sheesh.
"I have an independent hustler's spirit," says Anthony about her many ventures. "That drives me to this day. I never want to ask anyone for anything."
So chick revealed how we all can "have it all too".  Some of her tips include:
1. Never Stop Doing You – "The difference with me is that when I first got to know my husband I was already hosting MTV's Total Request Live, so I came with a full career," she says.

2. Accept That Having It All Will Require Blood, Sweat and Stilettos – When asked about balancing a family, career and friendships, Anthony responded saying, "It's tough. I always say that people who think it isn't aren't being honest."

3. Sex May Sell, But Love Keeps You Off the Market – "If you don't try to spice it up and keep it sexy, anyone can get bored but the key is really taking time with each other," advises Anthony.
Check out more over at JETmag.com and pick up the May 12 issue on newsstands April 21.
Guess what....Orange Is The New Black is back!  The gripping teaser for season 2 just hit the net today, and the Netflix original series returns with 13 episodes on June 6th.
Now, we admit....we haven't FULLY succumbed ot the hype.  Only got through half of season 1 because it seemed we were missing something.  But we know the rest of the world is freakin' estatic.
Catch Laverne Cox, Uzo Aduba, Piper Schilling and the rest of the crew in the new season as they continue their sometimes hilarious lives at Litchfield Women's Prison.
The Randomness:
1.  THIS rapper who cut his penis off...yeah...doctors are unable to re-attach it.  STORY
Photo: JET