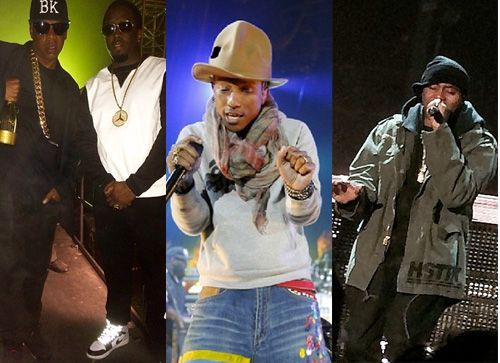 Coachella fans experienced an epic night of performances after Pharrell, Nas, Jay Z, Diddy, Nelly and Kid Cudi took the stage last night. Check last night's pics and videos of their performances when you go inside...
Skateboard P definitely stole the show--despite pretty much losing his voice thanks to the sandstorm--with his surprise guest appearances from the many celebs he's worked with. P and "that hat" performed many of his solo hits and then he started pulling surprise guest appearances from out of his magic hat. He also had a celeb filled audience of 100,000 Festival goers....with Jay Z, Beyonce, Tyler the Creator, Amber Rose and others watching the show.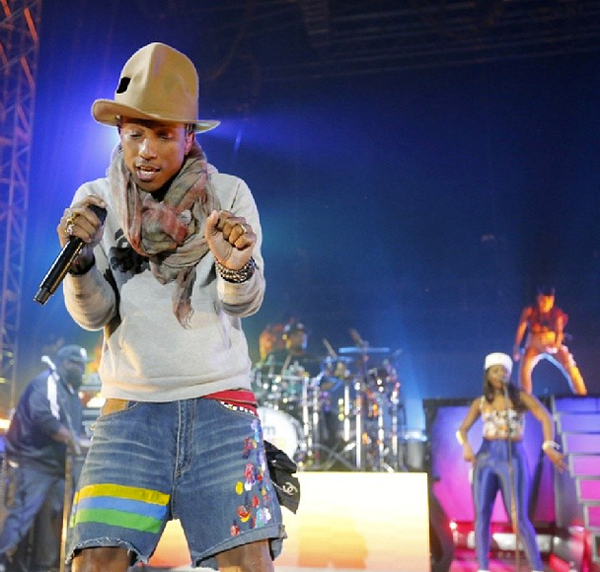 Nelly hopped on stage with P to perform "Hot In Herre," then Diddy and Busta Rhymes took the stage with P to perform "Pass The Courvoisier."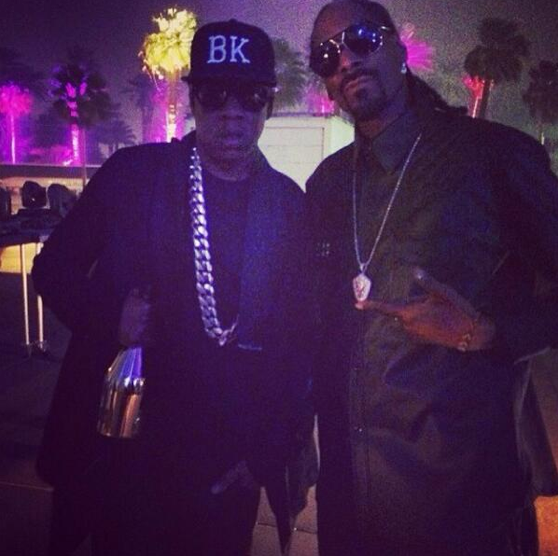 Soon after, fans were surprised with a cameo from Snoop Dogg (or Snoop Lion as he's calling himself these days) for a performance of "Drop It Like It's Hot" & "Beautiful".  Then he bought out singer Gwen Stefani, who's fresh off having her new baby, for "Hollaback Girl."
With a desert storm in full effect, P had to change up his set background because of all the dust/sand flying around. The wind and sand was getting to P as he tried to perform and had him sounding a bit off…and then his voice went completely out.
Hey Amber!
As Nas' 20th year anniversary of Illmatic approaches (with the release of his documentary at the Tribeca Film Festival on April 16th), the illest emcee headlined Day 2 of Coachella last night.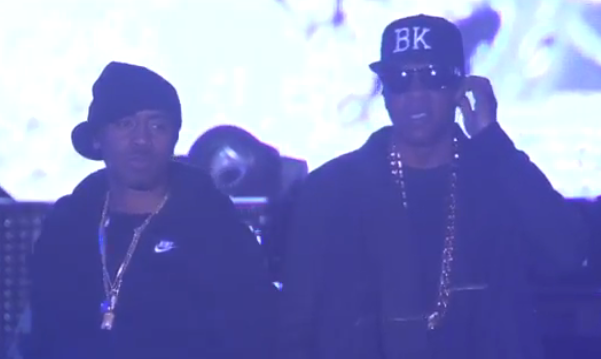 The 40-year-old rapper opened his set performing his debut album Illmatic from beginning to end. As Nas got to track #4 "The World Is Yours," he cut it short for Jay Z to take the stage with him and they performed their track "Dead Presidents".  Then Jay performed "Where I'm From" solo.  All you hip hop heads know exactly how epic this Coachella collabo is between these two.
Soon after, Diddy hit the stage for their classic hit "Hate Me Now,"with Nas closing his set with "One Mic."
Diddy was posted up with Jay backstage saying, "2kings SHAWN and SEAN!!!!! Nigga we made it!! Live from #coachella".
 
And Kid Cudi bought the party to the stage as he danced around in a red crop top and tight cut-off jeans performing his hits, "Mr. Rager" and "Soundtrack 2 My Life."
Kid Cudi was very excited to hit the stage at Coachella being it was his very first time performing there.  But this crop top though....
He ended his set with an extended version of his hit "Pursuit of Happyniess" where he ened up hoping off stage and into the crowd to sing along with fans. Nice.
 
Check the video of their performances below:
Pharrell's FULL set:
Nas' FULL set:
Nas, Jay Z & Diddy at Coachella:
Nas closing his set with "One Mic":
Clip of Kid Cudi's "Soundtrack To My Life":
Photos/Videos: Splash/Diddy's IG/Revolt TV's IG/Yardie/@rosesmellslykepoo/@cjbeatz/@whatabouthiphop/@sword_et_shield