They did it again! For the FIFTH year in a row, Chicago's Urban Prep Academy is sending every single student…yes 100% of their graduating class...off to college. Get the deets and find out how Kelly Rowland is paying it forward inside…
Hopefully stories like this will set a new trend in our nation. We hear/read stories and statistics all the time on how African-American men, especially in cities like Chicago, are dead beats and gangsters who will end up in jail before turning 21.  We hear they are uneducated and a slew of other negative comments/statistics.
With young, black men such as Kwasi Enin (who will choose which of the EIGHT Ivy-League schools he will attend) and Akintunde Ahmad (who has been accepted to almost every Ivy-League school in the nation), and thousands of unnamed black teens across the country who are headed to college, what you hear is not necessarily the norm.
The Chicago teens of Urban Prep Academy, specifically, have defied the odds of their environment by excelling academically.  It's GREAT to hear more news of young, black men, especially, who are setting the standard.
For the fifth year in a row, Chicago's Urban Prep Academy is proudly announcing that they are sending ALL 240 of their seniors (from their Englewood, West campuses and Bronzeville Campus) to college.
Urban Prep's schools, who operate heavily off donations. are the only all-boys public schools in the state of Illinois.  Their mission is to provide a comprehensive, high-quality college preparatory education to young men that results in graduates succeeding in college.
Students from all three campuses, faculty, parents and other special guests, including Chicago Mayor Rahm Emanuel, celebrated the momentous occasion with an assembly on Tuesday, April 8, 2014.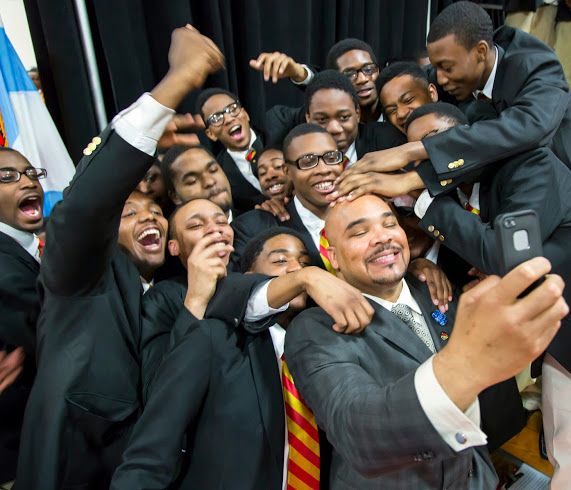 Urban Prep founder Tim King revealed the graduating class, all African-American males, has received over 185 acceptance letters from different schools across the country and have earned over $11 million in scholarships and grants.
Mr. King expressed his excitement saying, "They deserve our attention because they are the young Black men whose hard work and effort; whose dedication, commitment, and focus; who, by being their brothers' keepers, empower me to announce that for the FIFTH consecutive year, 100% of Urban Prep's seniors have been admitted to four-year colleges and universities."
WOW! We applaud these young men for a job extremely well done and encourage them to keep reaching for the stars. The sky is the limit!
And another bit of positivity...
Grammy award winning singer Kelly Rowland and her nude Valentino shoes trekked it to an event for a cause.  She's teaming up with fast-food giant Taco Bell for the Taco Bell Foundation for Teens.
In the new initiative to provide resources to deserving young adults, The Taco Bell Foundation for Teens and the Boys & Girls Clubs of America have collaborated with the "Motivation" singer and the Speaker of the House John Boehner (pictured above) to make a significant impact on the lives of more than half a million teens. They plan on enabling teens from across the nation to graduate from high school and prepare them for college, or prepare them for careers.
The foundation's goal is to provide $30 million in grants to the Boys & Girls Club of America (the largest gift in the organization's 108-year history) for resources for students to prepare them for a successful future.
Nice!
Photos: Paul MorigiUrbanPrep.org