After all the controversy surrounding Nicki Minaj's use of Malcom X's iconic photo as the cover art for "Lookin A** N*gga," Nicki has responded (again) on a recently released track "Chi-Raq" featuring rapper Lil Herb. Plus, Nicki's mom Carol Maraj releases the full track for her gospel song "God's Been Good." Check out the new tracks inside...
We told you Nicki Minaj released a statement apologizing for the unofficial use of Malcom X's photo for the "Lookin' A** N*gga" track saying:
What seems to be the issue now? Do you have a problem with me referring to the people Malcolm X was ready to pull his gun out on as Lookin Ass Niggaz? Well, I apologize. That was never the official artwork nor is this an official single. This is a conversation. Not a single. I am in the video shooting at Lookin Ass Niggaz and there happened to be an iconic photo of Malcolm X ready to do the same thing for what he believed in!!!!
Now Nicki is addressing the controversy again on the Vinylz, Boi-1da and Allen Ritter produced track rapping,
"Malcolm X's daughter came at me / Lookin ass ni**as ain't happy/rolled out with some Latin Kings and some eses in them plain khaki's"
And the YMCMB First Lady also hinted at releasing new music every week until her upcoming album The Pink Print is released:
"I always got a trick up my sleeve. I might give you a new trick every week until this album drop. I don't know. I figured they want some more, I'm gone give you some more."
Listen below:
The Pink Print is expected to drop later this year.
And in other new music….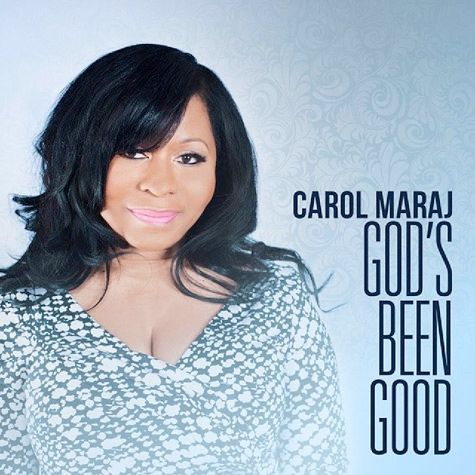 Nicki Minaj's mother, Carol Maraj, just released the full track of her gospel song "God's Been Good." Carol released a snippet of the song last month and now she has released the single in it's entirety along with the cover art (above).
Carol sings praises to God after conquering cancer over an up-tempo beat singing, "God's been good and always been good say yea"
No word on if she will be releasing a full gospel album but the song is available on iTunes to download.
Listen below:
We hope Carol doesn't decide to feature Nicki on any of her gospel-laced tracks. Not sure how that might turn out.  They are indeed twinsies though...