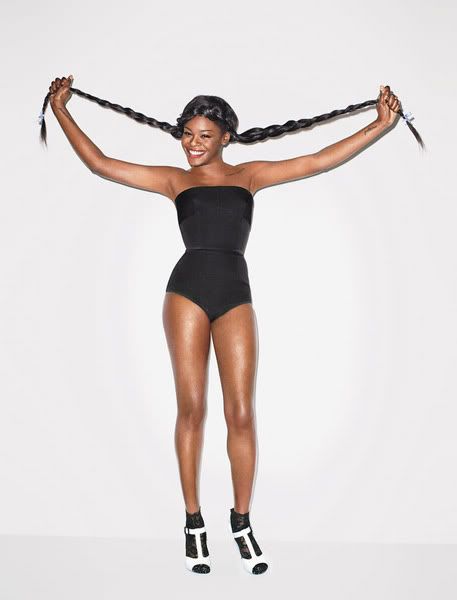 Buzz-worthy rapper Azealia Banks dons a sexy bodysuit for the latest issue of "T" Magazine.  See the pic and find out about her Harlem-upbringing inside.....
Harlem bred rapper Azealia Banks, who calls herself the "Young Rapunxel," posed for a Terry Richardson photo in The New York Times "T" Magazine (on newsstands now).  She rocked a Rochas bodysuit with Dolce & Gabbana shoes and Solange Azagury-Partridge earrings for the shoot.
The up and coming rap chick has made a name for herself with her different rap style & beats and starting beef with other female rappers.
Inside the magazine, she talks about growing up with money in a poor area of Harlem:
"We lived in Harlem just, like, at the beginning of its gentrification…but my mom had our apartment since she was 18, she worked a retail job, but she worked on commission, so she made like, maybe, 75 or $80,000 a year, but our rent was so cheap since it was, like, rent-controlled, so our rent was, like, $300 a month for a two-bedroom apartment, so we always had extra money."
She continued on how her mother spoiled her with everything a girl could want:
"I grew up very spoiled…like I had everything: I had computers, I had video games, I had dress-up clothes, I had lipstick, I had heels—not like, actual heels, play heels—I had dolls, I had birds, I had hamsters—my mom did a really good job of keeping me stimulated."
Yep sure sounds like it.  Now the "212" chick is in London where she has been embraced by fashion designer Karl Lagerfeld. "Europe and the U.K. have just been sucking me up," she joked.
Her album Broke with Expensive Taste (due September) to drop so we can see what the hype is about.
Photo by Terry Richardson/Styled by Mel Ottenberg/Hair by Jeff Francis/Makeup by Frank B./Manicure by Alicia Torello.
 
The Randomness:
1.  Ruben Studdard owes the IRS...AGAIN.  Story.
2.  Tupac Shakur's musical officially given the greenlight by his mom to head to Broadway.  Story.