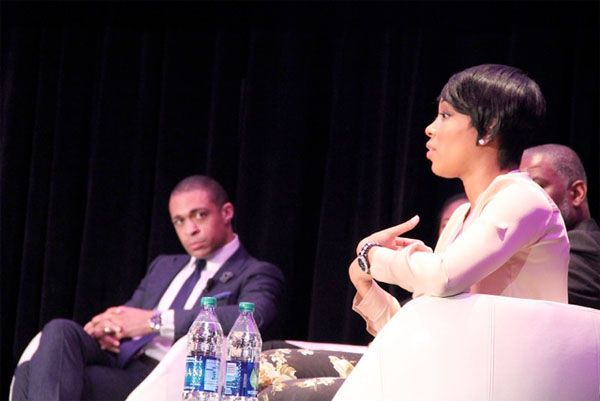 Fab mother-of-three Monica described how she went into full "mommy-mode" after a teacher wrongfully disciplined her son Rocko. Find out how Monica handled the situation and speak on whether you agree or disagree with how she handled it inside…
Being a good mother is an essential part in raising well-mannered, productive citizens, many would agree.  And from what we can see, singer Monica is doing a fantastic job in doing just that.
Recently, the real basketball wife served as a panel guest for the Box Tops for Education Town Hall event, which took place last week at the Georgia Aquarium (the same place Monica & LaLa took their kiddies recently for some fun).
During the talk, Monica spoke candidly about an incident that occurred with her 8-year-old son Rocko and his foreign language teacher. Apparently, Rocko's teacher snatched up Rocko by his collar after she felt he wasn't sitting in the proper learning position. Rocko told his mother what the teacher did to him during class and she described how she reacted to the situation:
"If you tell him to do something and he has not done it then that's a different thing. Then the children in the classroom begin to share these stories of her pinching, pushing, squeezing hands until you get answers correct. She don't belong 'round mine.

If you're properly involved you can assess these situations and properly handle them because I took a minute…I did not leave my home immediately because I knew that my immediate reaction was one I did not want my children to see, so I had to check me first. And that takes a lot. The new me is a better me. The old me, I don't know if I could have checked her before she left. I was able to have a conversation with the principal, with her daughter [who is also their language teacher] and have a conversation that said we should talk with these children and her [foreign language teacher] and assess the situation. And that's sometimes what you may have to do but that's only when you're properly involved. Most parents jump in only when they think something is wrong. I was able to make a good decision and handle it properly because I'm always involved."
 
Check out Monica explaining the incident below on a panel alongside T.J. Holmes and more:
Discipline in schools is a constant hot topic. After hearing how Monica handled the situation with Rocko's teacher, do you agree?  How would you have handled the situation after hearing a teacher put their hands on YOUR child?
SPEAK ON IT!
The Ranodmness:
1.  Al Sharpton has responded to Mob rat accusations by the NY Post.  He said he HAD to cooperate with the Feds decades ago...because his life was being threatened!  STORY