Now that Kandi Burruss is officially married to Todd Tucker, Mama Joyce is throwing post wedding shade.  See what she said inside and see Wendy on vacation with her two Kevs....  
In case you missed it, Kandi Burruss married Todd Tucker last week and Mama Joyce is STILL upset.  During a post-wedding chat with Too Fab, Mama Joyce threw shade at the newlyweds and spilled deets on Todd's pre-nup.  Here are the highlights:
On her post-wedding thoughts about Kandi and Todd's marriage:
I had no reason to bite my tongue. I'm not gonna be the one to stop her from jumping into the fire. I tried, I did all that ahead of time. Too late for me to pull out of it then, not gonna make a fool outta myself!
On Todd being a "shark' and the worst is yet to come:
Long as she's happy, that's the one that has to be happy. Doesn't make no difference if I'm happy or not, she's the one that has to live with him. I did everything I could do. If she's jumping in the river with sharks, she's gonna get chewed up. It's not about me, whether I'm right or wrong. People show you their best when you're dating them, so if she's seeing the best now, the worst is yet to come.
On the speech she gave to Kandi and her wedding guests:
I said, 'She looks very happy. I'm happy that she's happy and I hope that she continues to be happy. I hope she's always as happy as she was last night.'
On Todd's prenup situation:
I got a little pissed at the bridegroom the night before this wedding. He kind of held up on signing the prenup and didn't come to the rehearsal dinner because he didn't want to sign it. His mom said she didn't see no reason for him to have to sign because they were in love. He was the one who didn't have a damn thing, but that's another story. But from what I understand, he did sign.
In other happy couples.....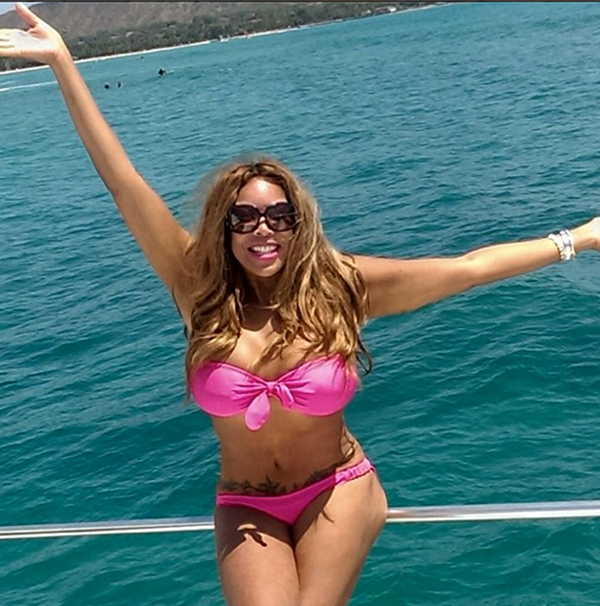 While on hiatus, Wendy Williams sharing a bikini pic from her vacay telling fans"Loving vacation but can't wait to reunite with all of you! Xox #imonaboat #lol #vacation #paradise"
While on vacay with her two Kevs, Big Kevin and Little Kevin, Wendy  seems very happy in spite of what Evelyn Lozada might think.  You'll recall, Evelyn returned some shade after Wendy called her baby a "cash register."  Evelyn tweeted that Big Kev had purchased a pair of shoes for another woman at her old show boutique outside of Miami.  Messy.  It's interesting that Wendy NEVER talked about THAT on hot topics. 
Oh well......."Wendy" returns live on April 14th.
Photos via Kandi's Instagram/Wendy's Instagram