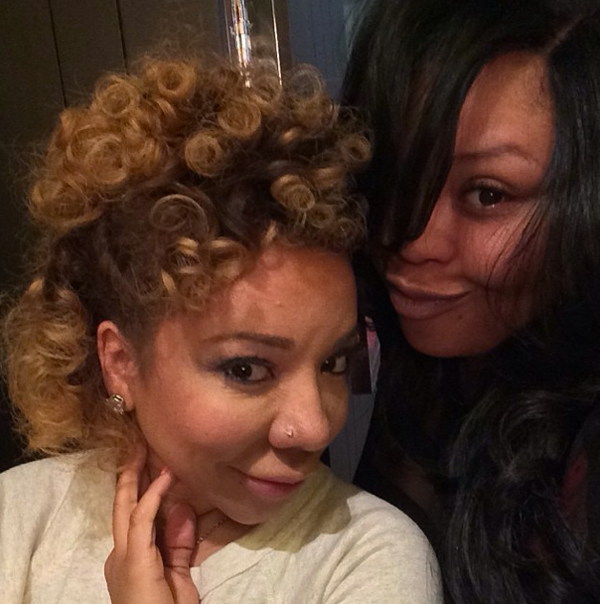 Get your closed-captioned subtitles ready because T.I.'s wife Tiny and her friend/hair stylist Shekinah are bringing their antics (and down south slang) to a TV near you. Plus, Tracy Morgan is returning to primetime TV in a new comedy series. Catch up on the new TV shows inside...
As Tiny makes her rounds promoting "T.I. & Tiny: The Family Hustle" new season, she revealed she and her friend ShekinahJo will be starring in their own reality TV spinoff show with a Paris & Nicole Richie "The Simple Life" tease.
Tiny sat down with Madame Noire and dished on her new venture, saying they haven't decided on a name just yet but according to the former Xscape singer, the show is going to be hilarious. We sure it will…just hope we can understand what they are saying to each other.
"We haven't named it but it's a Tiny and Shekinah show and it's kinda gonna be like, this idea I had to be like 'The Simple Life' like Nicole [Richie] and Paris [Hilton]. So it's going to be our version of that. We're going to go on adventures and do a lot of things that we haven't done. It's going to be really hilarious. We're going to start shooting in the end of April so this will be another one for me I'm just trying to up my stock."
Here's a sample (a deleted scene from "Family Hustle") of what we might see on their show:
Ha! Will you be tuned in?
And also on TV…
Funnyman Tracy Morgan will be returning to TV after starring in the NBC television show "30 Rock."
The new, untitled comedy series is part of a three-year production deal with FX Productions and the creators of "It's Always Sunny in Philadelphia." Tracy started working with comedy writers Rob McElhenney and Glenn Howerton in January with discussions about the new series and its expected to debut in January 2015.
Nice.
BONUS:
Bounce TV is premiering a new original series titled "One Love" starring comedian/actor Mark Curry and former "Moesha" actress Sheryl Lee Ralph.
The new family-oriented sitcom will feature Mark Curry as Pastor William and Sheryl Lee Ralph as the first lady, Carolyn Winters. The married couple and their children bump heads when their adult children begin relationships of their own. Pastor William and First Lady Carolyn then have to learn the balance of letting their children learn from their own mistakes and offering their wisdom.
The sitcom was created and executive produced by Carla Banks Waddles, who produced "Half and Half" along with Leslie Small who directed Kevin Hart: Let Me Explain.
Tune in Tuesday, April 8th at 9pm/EST for the premiere.
Everybody's getting work these days.  Loves it!
Photos: Shekinah's IG/Tracy Morgan's IG