Lil Scrappy is claiming an Atlanta spa discriminated against him and his family for being black after they cancelled his daughter's party. The salon has now fired back saying they aren't racist, and Scrappy was just LATE. Read the deets when you go inside…
"LAHH ATL" star Lil Scrappy was ready to put "them paws" on someone after his daughter was left in tears when an Atlanta salon refused to serve his family. Why? Well…according to Scrappy, it was because they're black!
It was reported Scrappy put down a down payment to have his little girl, Emani's 9th birthday party at Glamour Girls Day Spa. Scrappy and Emani's mother, "LAHH ATL" star Erica Dixon, showed up and when they got there, the salon refused to let them in. They claim they were only 20 minutes late, but the salon said otherwise.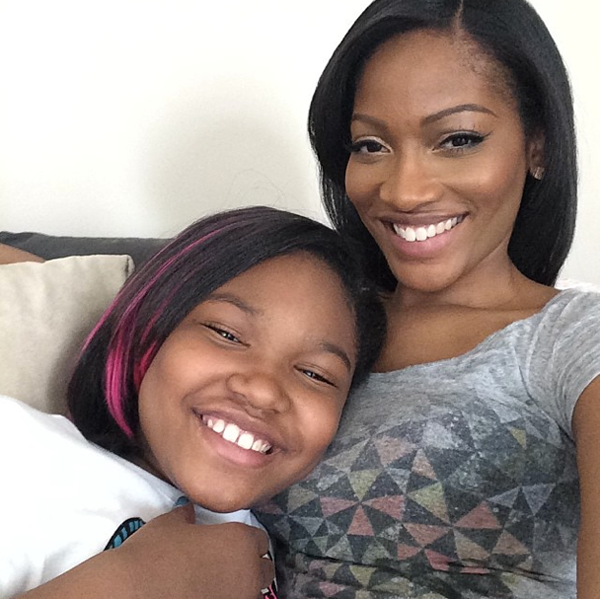 Scrappy got upset when they wouldn't let them in after he had already made a down payment and the salon owner allegedly told Scrappy they didn't want to serve "you people."
That set Scrappy off and the cops ended up being called because obviously, dude wanted his money back. He got half of his money back and the salon agreed to mail the rest.
Now, the salon is speaking out.
Glamor Girls Day Spa's owner Angela Shannon told TMZ she didn't let them in because they were extremely late and she had other customers waiting. She insisted it had nothing to do with them being black and confirmed she paid Scrappy a full refund of $275.42...with receipts to prove it.
Can't get mad if you operate on CP time.  Allegedly.
The Randomness:
1.  Angela Bassett will continue to star on "American Horror Story" for the FREAK SHOW installment.  STORY
2.  Nick Cannon's "I'm Racist" stand up comedy routine.  STORY 
Photos: Emani's IG/Erica Dixon's IG