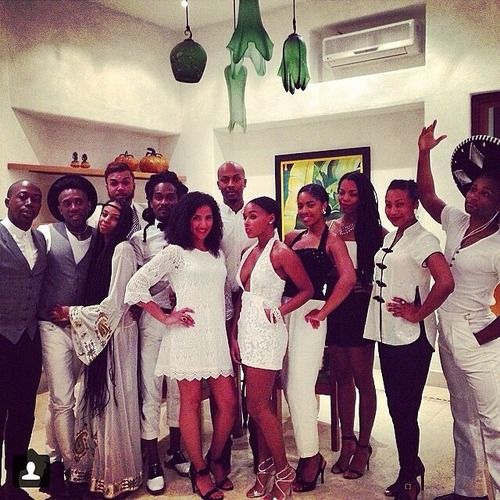 Soulstress Janelle Monae let her hair down, kinda, and showed off a sexy side like we've never seen!  See Janelle letting her "ladies" out to play inside....
We came across an uber-sexy undated photo of Janelle Monae with the Wondaland Arts Society. The group, which she co-founded, consists of a collective of artists musicians, singers, rappers, painters (including Roman GianArthur).
When she's with the WAS, it looks like she shows off a different side of herself. Wearing a short white dress with a plunging neckline, Jimmy Choo shoes and her hair pulled back, Janelle showed off her sexy side. We likey!
A few months ago, she told ESSENCE Magazine that she intentionally hides her sexy body so fans will focus on her music and NOT her assets.  In other news, she recently dropped a cover of of David Bowie's "Heroes" saying,
"Bowie is part of my musical DNA in so many ways. And 'Heroes' is one of my favorite Bowie songs. When you love your favorite song, you want to keep some of the beautiful qualities of the original, but we brought Atlanta in the drums and wanted them to be thick and hit hard. It's like us reimagining it. I thought, 'If this song was in my dream, how would it get from our dream to my reality?'"
 
Also, she and M.I.A. are set to celebrate the launch of the Audi A3 tonight...via hologram.  According to Pitchfork, they'll also perform two brand-new duets. 
The sie reports, it's "the first hologram performance with integrated video mapping....and...utilizes 3D projection mapping to add layered depth of field perception with animated graphic content, the result of which will be an electric never-before-seen 3D bi-coastal performance."
Listen to "Heroes":