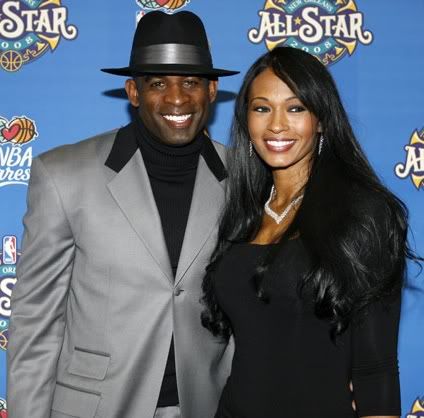 Though rumors of their split have been circulating for months, Deion Sanders has officially confirmed that he and Pilar Sanders are going their separate ways. Deets inside....
Add Deion & Pilar Sanders to the list of high-profile sports couples going their separate ways.   
The NFL Hall of Famer recently told TMZ, 
"Pilar and I have decided to end our marriage and move on to the next phase of our individual lives with mutual respect. We are friends and our top priority has and will continue to be the well-being of our children.  We arrived at this decision prayerfully and carefully in order to be able to pursue what is in both of our best personal interests."
Though the Sanders have decided to go public with their split, insiders say the couple close the door on their romance a few months ago.  So with nearly 12 years of marriage and three children together, it's over.
Meanwhile, Pilar isn't letting any grass grow under her feet.  She's already appeared on LOGO's "The A-List" and is expected to make a few more reality tv appearances this season.  Now that Deion is gone, the beauty plans to focus on her own modeling and tv career.
Something tells me we are going to be seeing and hearing a lot from Pilar!