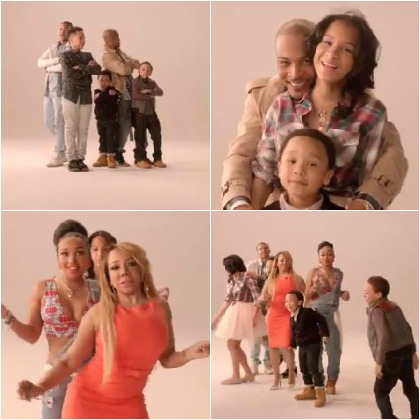 We have the extended trailer from the upcoming season of "Family Hustle" and deets on Pharrell's new deal with Adidas inside....
Are you read for the return of "T.I. & Tiny: The Family Hustle"? Watch the extended trailer above of all the family shenanigans and tune in Monday, March 31st at 9/8c on VH1.
SIDEBAR: Their new puppy is adorbs!
In other entertainment news...
Music producer and fashion designer Pharrell is taking Bionic Yarn (a company in which he is an investor) into a partnership with Adidas.  For those who don't know, Bionic Yarn is a sustainable material that is spun from recycled plastic bottles. Pharrell, who also serves as the company's ambassador, plans to use BY to design a collection for Adidas.  Of course his creative genius self would do this...
In a statement, Dirk Schoenberger, Adidas' sport style division global creative director, said:
'I am truly thrilled to work with Pharrell. He is a pop-culture icon who never fails to inspire, not just through his musical talent and craft, but through his many other interests. He is the perfect fit for the multi-faceted company that is Adidas."
Pharrell, who also operates the Billionaire Boys Club, has previously designed collections for G-Star, Comme des Garcons, Moncler, Uniqlo, and Louis Vuitton on limited-edition products.
Work!
Photo via Pharrell's Instagram