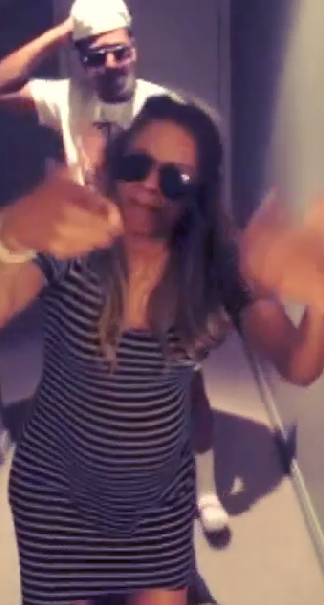 Ciara and her father posed a few funny videos of themselvs dancing to Future's latest record.  Watch the clips inside and check out Kim Kardashan joking about North's "accident" during the VOGUE shoot. 
In her latest series of Instagram uploads named "#PregnantLadyChronicles", Ciara celebrates the success of Future's "Move That Dope" single by dancing with her father.   
Now we know where CiCi got her moves! 
In other baby news...... 
Last night, in addition to her celebratory dinner with Kanye and Anna Wintour at the Waverly Inn, Kim Kardashain stopped by Late Night with Seth Meyers where sis dropped a very interesting BTS tidbit.  During her cover shoot with Kanye for VOGUE, North West peed on Kanye!
"North peed on him right at that moment.  And he was trying to tell me, and I couldn't really hear him, but I had to get up and get her, clean her off, clean him off. It's a good memory."
She also shared why the cover is such a big deal.
"I know it's a first of a lot: They were telling us that Kanye is the first rapper to be on, and I'm the first reality person to be on and the first interracial couple, so all of this just means so much I think to Kanye and I. Every girl I think grows up dreaming they could be on the cover of Vogue, and I collected vintage Vogue's forever, and it's just honestly the biggest dream come true, and I'm so honored to be on the cover."

 
Photos via Ciara's Instagram