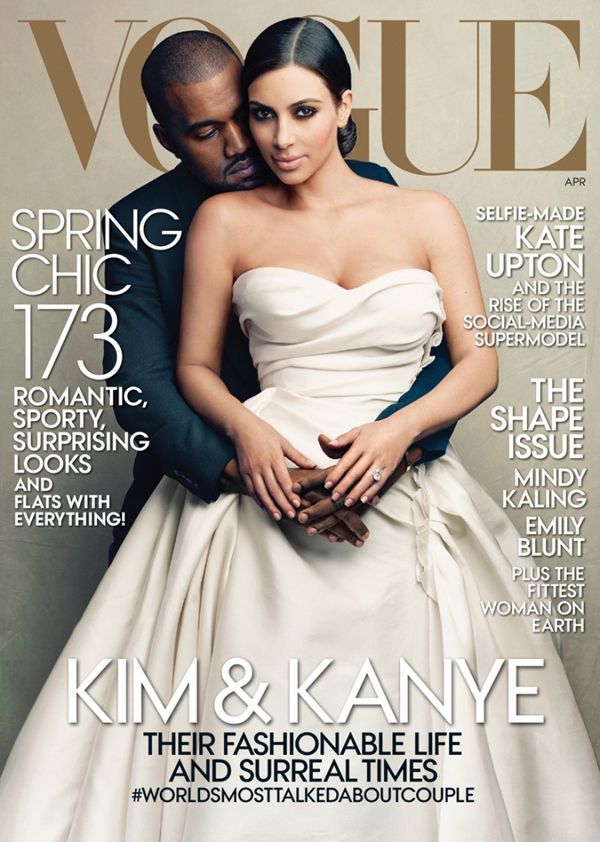 Well, ladies and gentleman.  The fashion bible and co-signer of all things fabulous has finally given Kanye West and his fianceè Kim Kardashian everything they've been begging to get for years now....the cover of VOGUE.
Check out the couple's cover shot inside...
Kanye West could give a lesson in campaigning for a magazine cover.  The worst kept secret in the fashion industry is that Anna Wintour has a major thing for black men, so winning over Ms. Wintour wasn't that hard of a feat.  But getting his chick featured as well was the real task.
So, after many dinner parties, schmoozing with designers, fashion shows with Ms. Wintour herself, and making sure he and his bride-to-be are in all the right places, he and Kim finally got their wish:  The cover of American VOGUE magazine. 
In the April 2014 issue, which serves as The Shape Issue, Kim appears to be donning wedding dresses in romantic pics with the "New Slaves" rapper.
It looks like VOGUE, who has always been the bible for everything fashion and the epitome of WIN, has set a new standard.  What that standard is exactly...you decide.
Kanye came out of his Twitter slumber to say,"#TRILL Thank you @voguemagazine."
We wouldn't be surprised if it's one of the mag's highest selling covers...for many reasons.  One of those reasons is that you can totally see how much in love they really are.  And we're not mad at that aspect.
Here's the BTS cover shoot video featuring the utter adorableness of Baby North.  More Nori please!
In other Kanye news, his lawyer entered a no contest plea this week on behalf of the rapper in regards to a misdemeanor count of battery against the photographer he was caught on video attacking at the airport.  A no contest plea is treated the same as a guilty plea for purposes of the sentencing. 
Kanye has now been sentenced to two years probation, which includes anger management sessions and 250 hours of community service.
Photographed by Annie Leibovitz