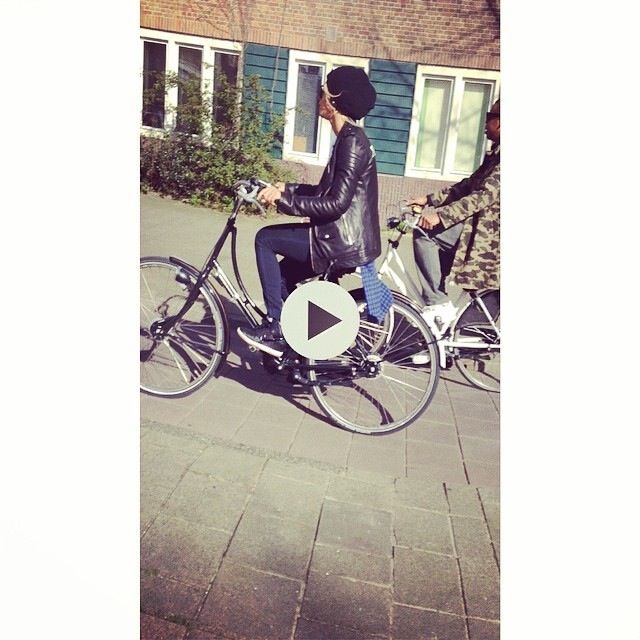 In today's edition of Celebs Are Just Like Us...
The Carters know how to live it up, chill style, in every country they visit.  And they're stint in Amsterdam is no different.  Check out Beyonce, Jay Z and Blue taking a bike ride and having a lovely lunch inside...
While bringing the MCSWT to the Ziggodome in Amsterdam on Tuesday and Wednesday, Bey & Jay made sure to take in the history and culture of the Netherlands. And yesterday, before they left town ahead of tonight's performance in Antwerp, Belgium, they were spotted grabbing lunch along the water at the Harbour Club.
Beyoncé and Jay Z were spotted at the Harbour Club in Amsterdam earlier today pic.twitter.com/SJpyxM842I

— Beyoncé Info. (@Beyonce_Info) March 20, 2014
The locals even caught the fam bike riding down the street, all nonchalantly with their security in tow:
The person who snapped the video said (loosely translated), "PEOPLE I'M IN SHOCKKK. YES THIS IS MY DOOR AND AND YES THIS IS WITH BEYONCE JAYZ AND BLUE IVY. I WAS SO SURPRISED THAT I CAUGHT THEM ON FILM AND THEN I BURST INTO TEARS."
Fun times!
Photos/Video: @Beyonce_Info's Twitter/@sorayasophiaaveiro_'s IG