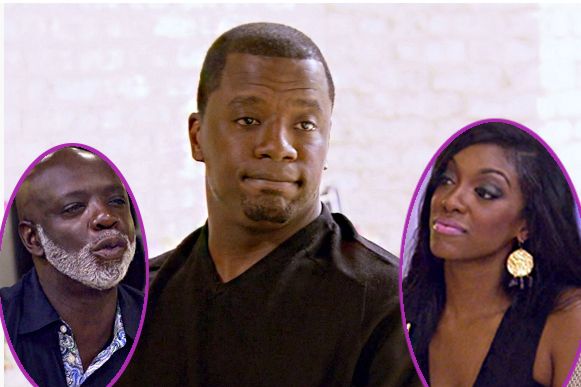 Kordell Stewart re-appeared on "RHOA" last night to spit out his side of the divorce story.  And he didn't hold back on shading ex-wife Porsha and her mother.  Find out about the "disrespectful" things he claims those Williams women did in his house (to explain why Porsha's family wasn't allowed back anymore), and more. 
Oh, and Peter Thomas looks to be campaigning to hold his own peach in that intro next season with all the messiness he brought last night....
Kordell had lots to say about Porsha and her mama.  He explained to Peter, who went to his house to check up on him, that Porsha's family constantly disrespected him and his castle, that's why he had to cut them off.  He said they would arrive 6-12 deep to his house.  Often.  And the family would be in Porsha's ear about what should/shouldn't happen in their marriage.
"It's moms in the background shoo-shooing because of things that have happened in HER past," Kordell said.
He gave the example of when he walked into his master bedroom to find Porsha's mom sitting on his cream chairs....in his master bedroom...eating a large pizza.
Check out that clip below:
Porsha's response once the group got to Mexico: She threw rocks and ran for cover...as usual.
"His celebrity was tainted [when we met]," she said in response to Kordell's explanation.
She went on to emphatically say that she "signed up" to "take all those rumors away" (meaning, Kordell's rumored and alleged arrest(s) involving sexual acts with trans prostitutes).
Kenya Moore asked Porsha point blank if she's saying she was his beard.  And Porsha began to back track.  As usual.
"Well, that's not what I'm saying.  I'm saying when I found him, he was wounded.  You're not listening to what I'm saying to you.  You have to LISTEN!"
Kenya came back with,"Don't try to cover it up now.  You married him because you were being his beard."
Bloop. 
Porsha went off about people only knowing "part" of their marriage and jumping to conclusions.  Yet....this is the only PART she keeps talking about.  
Once Gregg jumped in saying,"She should be a damn PR for her husband...", it was clear Porsha and her way with words fooled people again.
Yes, you should want to help your spouse's image in any way because you love them and want the best for them.  But Porsha, who made it seem like this was her ONLY role, has spent the majority of this season spurting out beard/gay/suspect allusions and accusations about Kordell.  She has said more than once that she COULD HAVE released secrets about him he wouldn't want anyone to know.  And now that people are calling her on it, she appears to be running for cover and accusing OTHERS of jumping to conclusions.
Check out the clip below:
And wasn't Peter was messy for confronting Porsha about his talk with Kordell saying, "he needed to get the other side of the story"?  Not sure why he needed to get in the mix, or like PORSHA said, "have tea at Kordell's house".  But, peep that clip below:
So...is Peter just being messy by stirring up the He Say/She Say divorce drama on vacay?    Or is he right to call Porsha out for blasting Kordell about a relationship she admits to signing up for?
Photos/Videos: Bravo