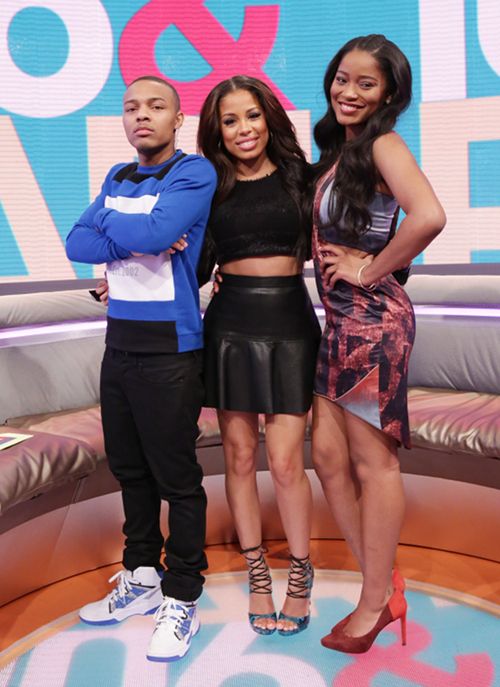 Who knew KeKe Palmer had so many tattoos and piercings. And what type of shade did Katy Perry throw at Mariah Carey? Find out inside…
KeKe Palmer is on her promo rounds for a new Lifetime movie she is starring in alongside Vanessa Williams, Cicely Tyson and Blair Underwood titled "The Trip to Bountiful."
The "TLC Story" star stopped by "106 & Park" yesterday and she revealed a couple of things we may have not known about the childhood actress.
Since it was #WomanCrushWednesday, when asked about HER woman crush, she said, "Definitely my girl RiRi. "
'106 & Park' hosts Bow Wow and Keshia Chante asked her a series of questions where she had to choose between two things she would give up over the other:
Instagram or Twitter: KeKe chose giving up Instagram because she said she can still post pics on Twitter and she is able to give her speeches. She said, "I need to be able to do my rants."
Tattoos or Piercings: KeKe said she would give up tattoos because she LOVES piercings. She said she has 5 tattoos and 7 piercings. She showed off her tattoos but wouldn't reveal where her 7 piercings are. Umm...Ok KeKe!
Heels or Flats: "I can definitely give up heels in a minute. I'm definitely a flat girl. Converse [sneakers] are my favorite."
Hair products or make-up:"Definitely can give up the hair products. I can wrap my hair, I don't need a product for it to be straight in the morning," she responded. She said she posts pics on Instagram all the time of her wrapping her hair.
So who would KeKe pick between Beyonce and Rihanna? She couldn't choose!
Singing or acting: She couldn't answer that one either because she said she loves them both and it's hard for her to choose.
KeKe then talked about her new flick, "The Trip to Bountiful." She said it is a Broadway adaptation and she plays a character named Thelma. KeKe also shared she has two other movies coming out: "Animal" which is a horror movie produced by Drew Barrymore and "Brotherly Love" which is a coming of age story produced by Queen Latifah.
 
Check out KeKe's interview below:
And in another interview...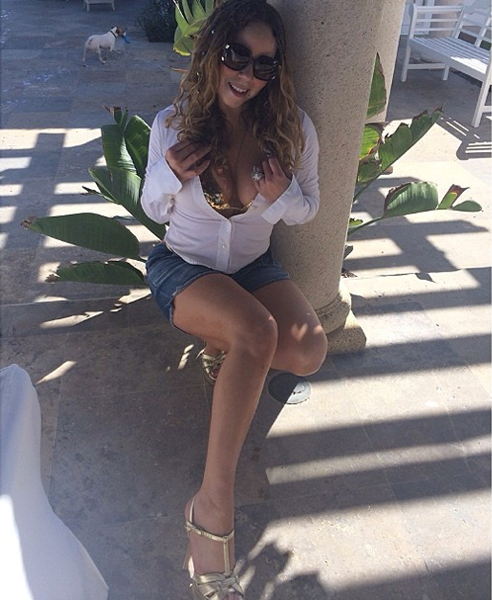 "Dark House" singer Katy Perry recently did an interview on Australian morning show Live On Sunrise and in the interview she called Mariah Carey "throwback fabulous"
Now…some would say Ms. Perry was throwing a bit of shade at the iconic Mariah Carey.
The interviewers called Katy the biggest female entertainer in the world and she responded "No Beyonce is…duh"
Then the interviewer said "we had one guy say Mariah Carey was" in which Katy responds: "Well, she's fabulous for a throwback, fabulous!"
Katy quickly tried to bring it back saying, "We love Fantasy. I mean…Honey. I love Honey. I sang all those songs growing up. Her with Boys 2 Men in the studio 'One Sweet Day' with her little dog. Oh my God I love that" Hilar!
Slight shade? Maybe half a palm tree?
Check out Katy's interview about Mariah starting at the 7:11 mark:
Womp.
The Randomness:
1. Lil Boosie is so excited to be home he released a freestyle on his way home from prison. STORY
2. Original "Grey's Anatomy" star Isaiah Washington will return for fellow co-star Sandra Oh's farewell. STORY
3. Idris Elba to provide the voice and perform the role of the killer tiger Shere Khan in Disney's live-action take on The Jungle Book. STORY
 
Photos: BET Networks/Mariah Carey's IG