Vanessa Williams revealed how she met her new man on vacation while Naomi Campbell dished on her past drug use when you go inside…
Actress Vanessa Williams and Blair Underwood stopped by "The View" this morning to talk about their new Broadway-inspired movie "The Trip to Bountiful," but we were shocked when Vanessa open up about her personal life.
The 50-year-old actress, who snapped a pic backstage with friend and comedienne Tammy Pescatelli, revealed for the first time that she was seeing someone and opened up on how they met.
She said she and her daughter went to Egypt recently and while on one of their pyramid tours, a handsome man caught her eye. At first she thought he was a part of their tour group, but it turns out he was there on vacation himself.
The two talked it up a bit and she found out that he was from Buffalo, NY. She eventually asked him out on their first date and they have been dating ever since. Love it.
"The Trip to Bountiful" premieres on Lifetime Saturday, March, 8th at 8pm/EST.
 
In another recent interview...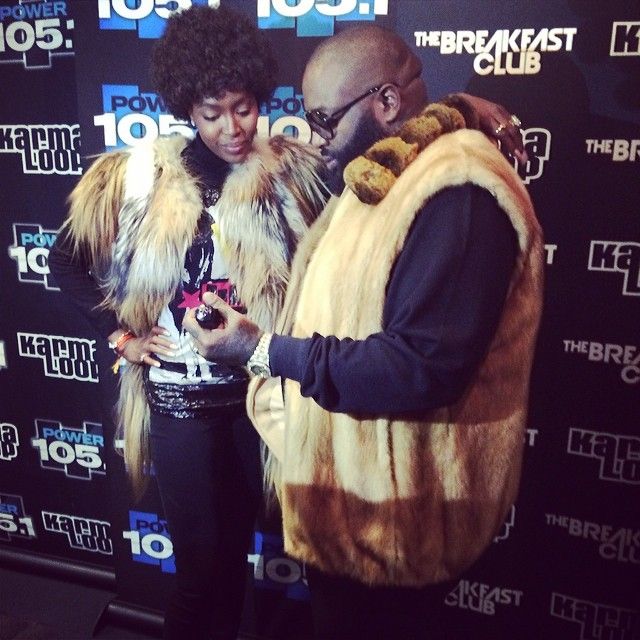 Supermodel Naomi Campbell, pictured above chopping it up with Rick Ross, is still doing her promo rounds WITH her new afro wig look and she stopped by The Breakfast Club yesterday to promote her new show "The Face".
The 43-year-old supermodel talked about having diversity on her show, supporting black models in the industry and how she feels about models getting plastic surgery. Naomi was asked about allegations about one of her show contestants having to get therapy after being on the show and she said that rumor is NOT true.
Naomi also talked about if social media bothers her. Charlamange asked her about social media going in on her about having NO edges. She responded: "It doesn't really bother me. Social media is like press. I have gotten thick skinned. I actually like social media."
NaNa talked about cocaine in the modeling industry and her own past drug use:
"It's all over the world. Addiction is addiction. Drugs is drugs. I think everyone has their psychological issues and I think it's wrong to say it's just because of a weight issue. If you pick it up you're responsible for it. I believe in recovery and I think recovery is the healthiest place to be. And I'm in recovery. It's something I respect and something that's in my mind everyday. I'm a work in progress."
She addressed video vixens calling themselves models, "Everyone has their job. I did some videos, are you going to call me that? I don't want to criticize what people's jobs are when they call themselves models. The word 'supermodel' is used loosely these days. "
We agree Naomi!
And she also dished on her relationships with boxer Mike Tyson, actor Robert De Niro, her beauty secrets and more.
Check out the interview below:
Season 2 of "The Face" premieres tonight at 10pm/EST on Oxygen.  If you haven't peeped it yet, you should.
The Randomness:
1.  Dr. Conrad Murray is making the most of his freedom.  He was spotted in Trinidad at Carnival this week!  STORY
Photos/Video: Vanessa Williams' IG/Angela Yee's IG