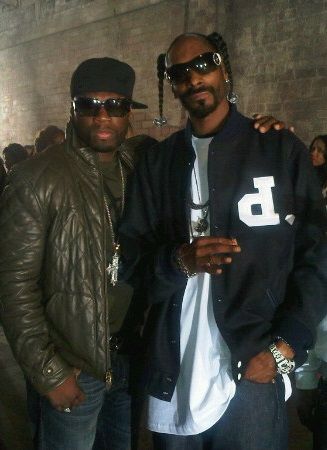 50 Cent has a lot of free time (since folks aren't checking for his music) and he's not using it wisely.  See the shenanigans he's been up to on social media inside....
Rapper 50 Cent (yes...he still raps) is back in the headlines...or at least TRYING to make headlines.  Lately, he's been sitting at his computer attempting to stir up trouble with a few "popular" rappers.  Sadly.....it's a fail.  
First,
He posted pics of Rick Ross, Diddy and Steve Stoute with the caption "I ain't saying nothing, but something ain't right." Hmmm....why is 50 attacking these dudes? 
You'll recall that 50 and Rick Ross had a nasty feud going a few years ago and rumor has it 50 was pissed at Steve for saying his music was not relevant.  As far as his feelings toward Steve, his ill will also spilled onto YouTube. 
Unfortunately for 50, this ain't the 90s and no one cares about rappers having "beef."  But that won't stop him from trying! 
Then,
He went at Snoop Dogg for getting a French manicure (by the way, Snoop's been getting French tips for months).  He said, "Talk to me about this one man, Damn."
Let's all rember that 50 Cent is 38-years-old!  Despite his age, he's on Instagram posting pics of other grown men and making catty comments.  While we understand that he's filthy rich and doesn't need to work, we do see a need for a hobby.  
Dear Curtis, GET offline - STEP away from the computer - PUT down your phone - BE productive.  You've been out of high school for a very long time.  Act like it.  President Obama's"My Brother's Keeper" Initiative could use you.  Or, actually....
The Randomness
1.  Common is heading to Broadway.  STORY
 Photo via Adrian Sydney/50's Instagram