Kelis covers The Guardian and opens up about on her new album, FOOD, divorce and possibly leaving the music industry.  Read the highlights inside and see 62-year-old supermodel Pat Cleveland posing for Tom Ford in Andre Leon Talley'sNumero.  Also, Iggy Azalea's "Fancy" video.
In the four years since she released the Fleshtone album, Kelis has made "peace" with ex-husband Nas, launched a cooking show "Saucy & Sweet" and recorded a new album, aptly entitled FOOD (due April 22th).
In the latest edition of The Guardian, she reflects on where her music has been and where it's headed (possibly retirement), being "labeled" an R&B girl and moving on after divorce.  Here are the highlights:
On Nas and discussing their divorce:  "I've been divorced for almost five years; it's over, I'm over it. But what I would say is that last year I was made more aware of it because my ex-husband decided to talk about stuff that I hadn't shared with the world. He slipped my wedding dress on to his album cover [2012's Life Is Good], so now I have to talk about it! I had no idea it was happening, I was like, 'What the…?' But it didn't affect my life. I'm not living that life now. I'm super-content and at peace."
On recording music: "I might make another album. I might make 10 more albums. I might never make another album again. It depends on how the mood suits me. I'm not declaring retirement but I'm just saying that I don't have any musical ambitions any more."
On R&B:"I was never an R&B artist. People coined me one but that's because, especially if you're in the States, if you're black and you sing, then you're R&B."
BONUS:
Watch the first episode of Kelis' "Saucy & Sweet" show on The Cooking Network. 
In other magazines...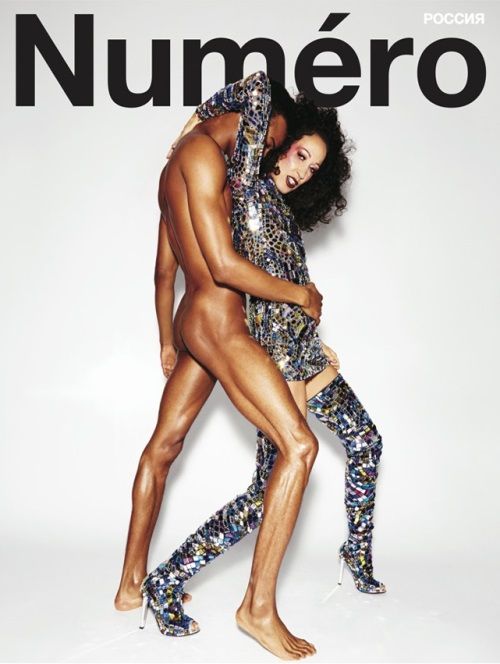 In the March issue of Numero Russia, Editor-At-Large Andre Leon Talley styled iconic model Pat Cleveland, who's credited with revolutionizing the world of black models, in famed designer Tom Ford for a scandalous pictorial in the March 2104 issue.  
The 14-page spread pairs Pat (who's in her 60s!) with South African model Conrad Bromfield as she models deisgns from Tom's Spring/Summer 2014 collection. Via The Huffington Post, Andre spoke about the shoot saying, "There are two people of color on the cover looking provocative and elegant. And Pat must be 60 now, proving that fashion is not about age. It crashes through the boundaries of ageism."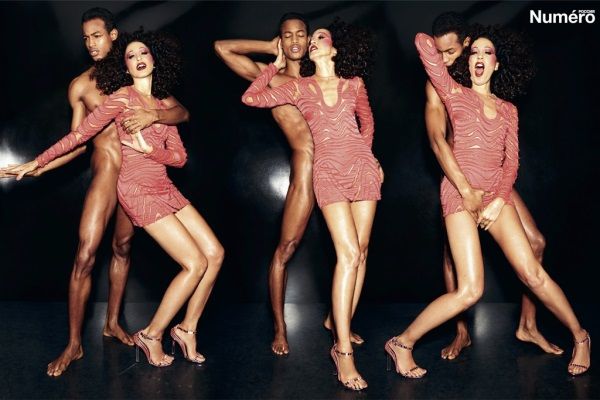 Tom added, "I am happy to say that I am color blind, and I simply cast the two people that I most wanted to work with and who I find beautiful. Pat Cleveland is iconic, yet she is still completely current as a model. Her age is irrelevant because her aura and what she is able to bring to a shoot and project to the camera is ageless and timeless."
Also.......
Iggy Azalea channels the iconic "Clueless" film in her video for "Fancy" featuring Charli XCX. 
Iggy is also a 2014 "Best Video Woodie" nominee and she'll perform her hit "Fancy" along with special guest Charli XCX, at the "2014 mtvU Woodie Awards" on Thursday, March 13.
Photos via The Guardian/Tom Ford/Numero