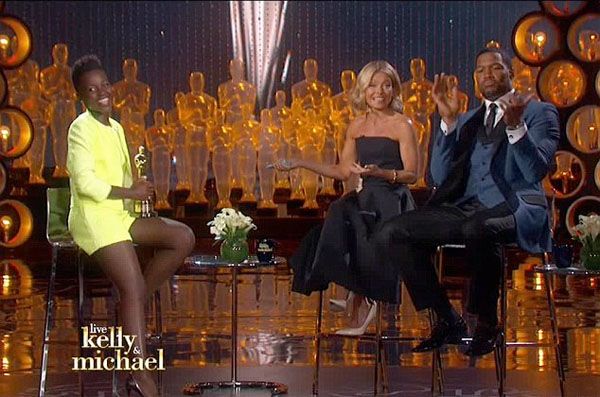 Academy Award winner Lupita Nyong'o hasn't been to sleep since winning her Oscar and supermodel Naomi Campbell stopped by The View with a brand new look. Check out Lupita's interview and Naomi's new hair inside… 
Best Supporting Actress winner Lupita Nyong'o was still riding high off her Oscar win when she appeared on Live with Kelly and Michael for her first post-Oscar interview this morning. The Kenyan beauty revealed to Kelly & Michael that she has NOT slept since winning her Academy Award!
"It is overwhelming but at the same time this is what I've trained for, this is what I've availed myself for. I'm just trying to allow myself to absorb it all. It has happened. 12 midnight came and this did not disappear."
How does Lupita prepare for an awards ceremony?  She told Kelly and Michael that she spends time thinking about how she wants to express her gratitude. "Gratitude is an emotion which is hard to articulate anyway, so I try to do my best to prepare."
After she got her Oscar, Lupita says she became very territorial.  "Well for the first half of the night I was being very, very selfish. I wouldn't let anyone even take a picture with it. No. No one was holding it. And then…it's really heavy." Then, Michael asked to hold her Oscar and she allowed him to hold it…but only for 3 seconds. Ha!
Lupita then thanked those whom she forgot to thank when accepting her award which included her management, her agent, her publicist and others.
On a related note, Chelsea Handler is being slammed for a "racist" tweet aimed at Lupita. 
Check out the full interview below:
Congrats Lupita!
In another interview…
Supermodel Naomi Campbell stopped by The View this morning with a totally new look. Naomi ditched her usual straight weave and donned an afro wig.
Naomi talked about the basic requirements to get into professional modeling. She suggested you needed to be 5'8" or taller, with Kate Moss being the exception. She said that if you are a shorter model, you basically have to have a certain "look" which will make up for your height.
"The Face" coach also said in terms of size, none of the models of her era were sickly or unhealthy looking. She said they all had bodies and she does NOT condone starving yourself to be thin.  Naomi then talked about this week's season 2 premiere of her show "The Face" on Oxygen (Wednesday, March 5th at 10/9c on Oxygen).
Are we feelin' Naomi's new do?
Photos: ABC/@jemasbury