The cast of Broadway's 'A Streetcar Named Desire' recently got together for meet and greet with their fans.  See Nicole Ari Parker and Blair Underwood inside and find out what Blair had to say about his new role.
A little something to whet the theater lover's whistle.  Fab chick Nicole Ari Parker is gearing up for her new role:
The stars of Broadway's 'A Streetcar Named Desire,'
Wood Harris
, Nicole Ari Parker,
Daphne Rubin-Vega
and Blair Underwood hosted a meet and greet at Pershing Square Signature Center in New York City today.  Mom of 2 Nicole is looking fab these days. 
The cast began rehearsals today--Nicole has been cast as the female lead, Blanche DuBois and the hot Mr. Underwood will play her husband, Stanley Kowaolski.  Both are making their Broadway debuts.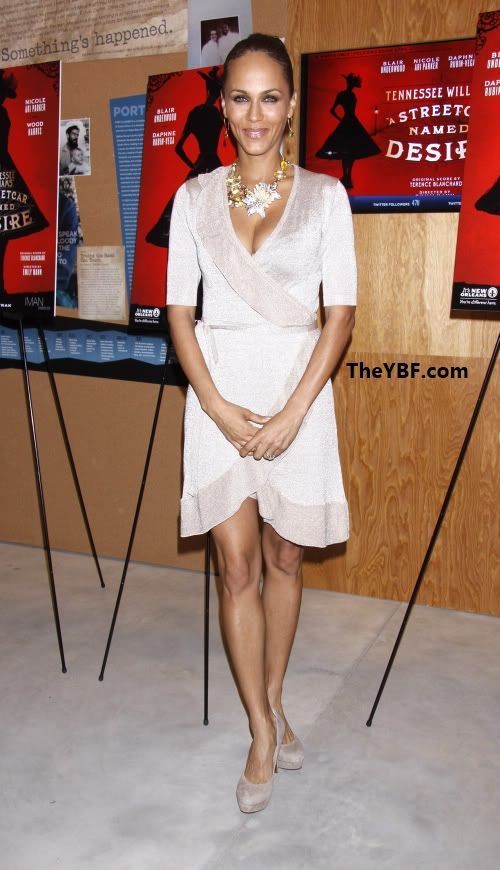 And during a
recent interview
with HuffPost BlackVoices, Blair revealed what fans can expect from his new role.
"The theater is my first love, it started in the theater. I went to college at Carnegie Mellon University and studied theater and fine arts. It just so happened that film and television took off in my career. But every chance that I get, I get back on those boards. It's where I feel most comfortable. So it's that, and then there's that personal excitement about the production itself: the fact that it is "A Streetcar Named Desire," the fact that it is Stanley Kowalski, which is just an iconic role to play in American theater.

And then the fact that I get to work with Nicole Ari Parker, who's playing Blanche, and Daphne Rubin-Vega is playing Stella, and Wood Harris playing Mitch, and [five-time Grammy award-winner from New Orleans] Terence Blanchard, who's doing the music. So he's going to give it all of that New Orleans flavor. So what you can expect is a glimpse inside fascinating, dysfunctional characters on stage. But also arguably one of the greatest plays ever written."
Streetcar Named Desire gets revived on Broadway April 22nd.
Photos via Joseph Marzullo/WENN.com