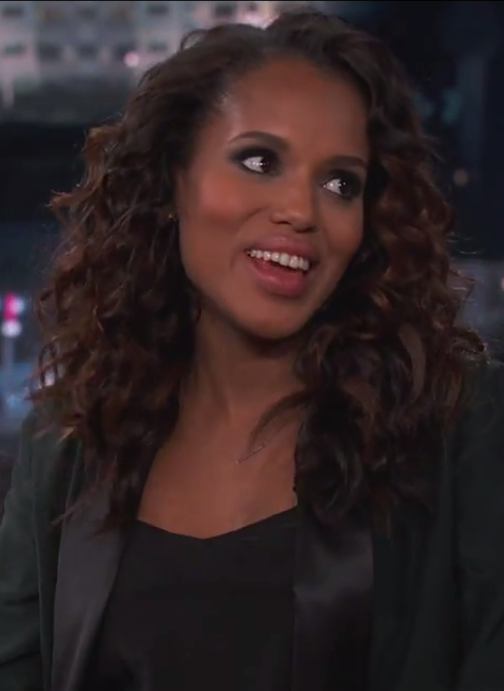 Kerry Washington welcomed "Scandal" back to Thursday nights with a funny appearance on "Jimmy Kimmel Live".  Watch the interview inside and watch a sneak peek of "Get On Up", the new James Brown biopic.
A very pregnant Kerry Washington stopped by "Jimmy Kimmel Live" last night, after the new episode of "Scandal" snatched all our wigs, where she talked about her pregnancy (she says she eats healthy) and revealed that her mom wanted her to go to law school.....not become an actress! 
She also told a funny story about starring in a college musical called "Croak: The Last Frog".  And she added that she takes her acting gigs very seriously and even researched her role by visiting frogs at the National Zoo.   She always had a little "over achieving Olivia Pope in her".
In other tv news....
Get On Up, the new James Brown biopic is heading to movie theaters on August 1, 2014.
The music icon will be played by Chadwick Boseman ("42") and the story follows the Godfather of Soul from his impoverished childhood to his evolution into one of the most influential figures of the 20th century.
Shot on location in Mississippi, and directed by Tate Taylor, the drama co-stars Viola Davis (as Susie Brown, James Brown's absentee mother) and Dan Aykroyd (as Ben Bart, Brown's longtime, at times contentious manager), as well as Octavia Spencer, Nelsan Ellis, Tika Sumpter and Jill Scott.  You here for this?
BONUS:
Via messenger, of course, Prince announced that he will take over "The Arsenio Hall Show" as the one and only guest on Wednesday, March 5. He will perform several songs and sit down with the late night host to share his 2014 plans.  Get your best purple outfit ready......