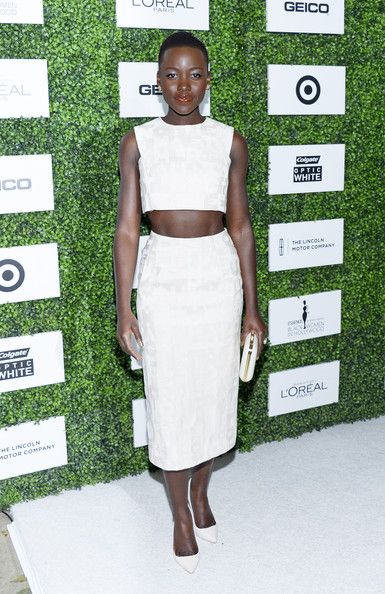 The gorgeous ones made their way to the 2014 Essence Black Women In Hollywood luncheon this afternoon at the Beverly Hilton.  Get your fill of fabness with honoree Lupita Nyong'o, Kerry Washington, Brandy, and lots more...
Lupita is snatching awards and taking names as we get even closer to Oscar night.  Today in Beverly Hills, the 12 Years A Slave actress rocked a white embroidered crop top and pencil skirt by Giambattista Valli with matching white pumps by Sophia Webster.  And she was honored with the Breakthrough Performance of the Year award at the Essence Black Women In Hollywood luncheon.  
She was absolutely smitten with her award, and had the whole room teary eyed with her acceptance speech.  Here's an excerpt:
I remember a time when I too felt unbeautiful. I put on the TV and only saw pale skin, I got teased and taunted about my night-shaded skin. And my one prayer to God, the miracle worker, was that I would wake up lighter-skinned. The morning would come and I would be so excited about seeing my new skin that I would refuse to look down at myself until I was in front of a mirror because I wanted to see my fair face first. And every day I experienced the same disappointment of being just as dark as I was the day before. I tried to negotiate with God, I told him I would stop stealing sugar cubes at night if he gave me what I wanted, I would listen to my mother's every word and never lose my school sweater again if he just made me a little lighter. But I guess God was unimpressed with my bargaining chips because He never listened.

And when I was a teenager my self-hate grew worse, as you can imagine happens with adolescence. My mother reminded me often that she thought that I was beautiful but that was no conservation, she's my mother, of course she's supposed to think I am beautiful. And then…Alek Wek. A celebrated model, she was dark as night, she was on all of the runways and in every magazine and everyone was talking about how beautiful she was. Even Oprah called her beautiful and that made it a fact. I couldn't believe that people were embracing a woman who looked so much like me, as beautiful. My complexion had always been an obstacle to overcome and all of a sudden Oprah was telling me it wasn't. It was perplexing and I wanted to reject it because I had begun to enjoy the seduction of inadequacy. But a flower couldn't help but bloom inside of me, when I saw Alek I inadvertently saw a reflection of myself that I could not deny. Now, I had a spring in my step because I felt more seen, more appreciated by the far away gatekeepers of beauty. But around me the preference for my skin prevailed, to the courters that I thought mattered I was still unbeautiful. And my mother again would say to me you can't eat beauty, it doesn't feed you and these words plagued and bothered me; I didn't really understand them until finally I realized that beauty was not a thing that I could acquire or consume, it was something that I just had to be.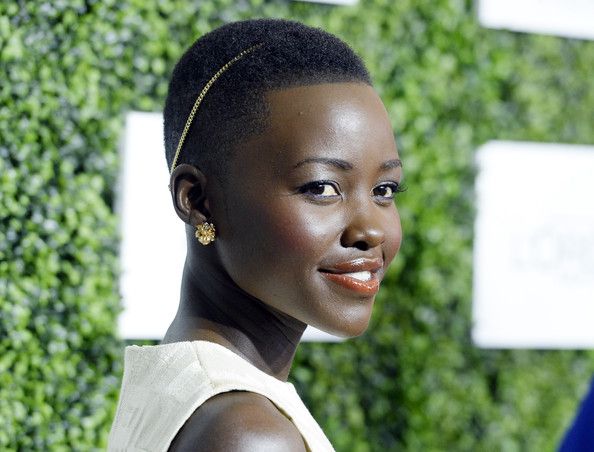 And we're so here for this dainty gold head piece.  Perfect.  Chick knows ho to accessorize her 'do.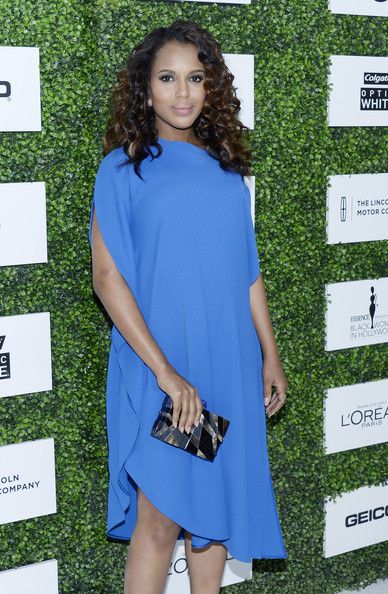 Mom-To-Be Kerry Washington rocked a simple flowing blue Calvin Klein dress, and she's definitely glowing: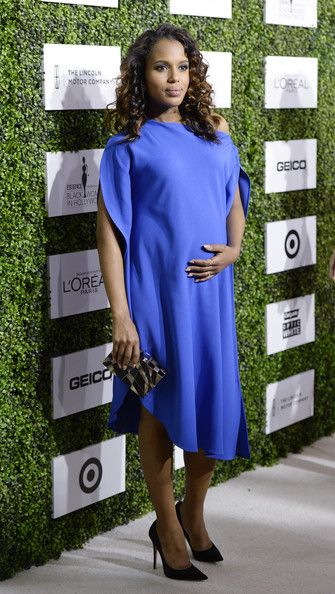 Pretty!
Brandy came through in a chic red pants suit by Elena Reva with matching red suede ankle strap Louboutins.  And it was the perfect 'ladies who lunch' look for the occasion.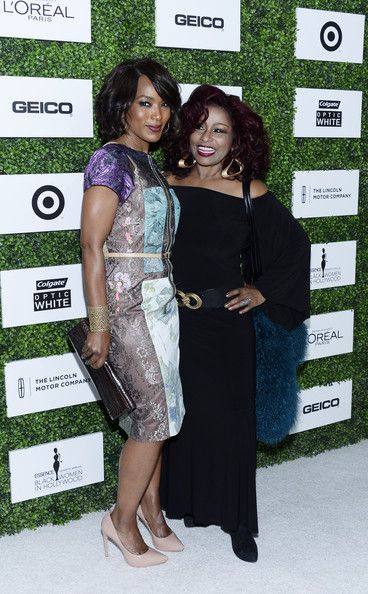 Angela Bassett and Chaka Khan had some fun on the carpet.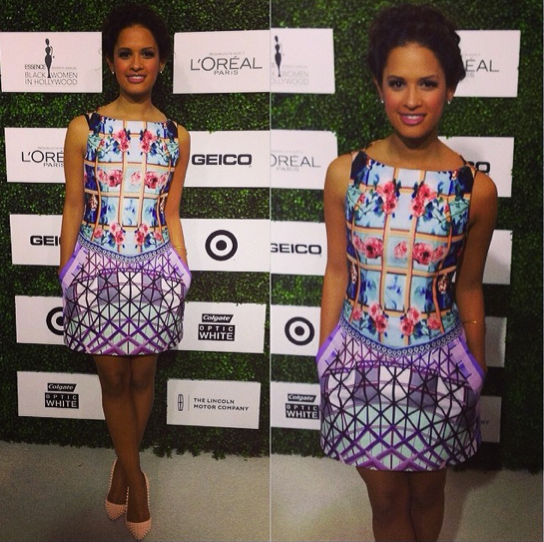 "ET" correspondent Rocsi Diaz kept it cute and colorful on the carpet in a Mary Katrantzou dress and shoes by Christian Louboutin.  And she was in good company with Oprah, Gayle and Sydney Poitier.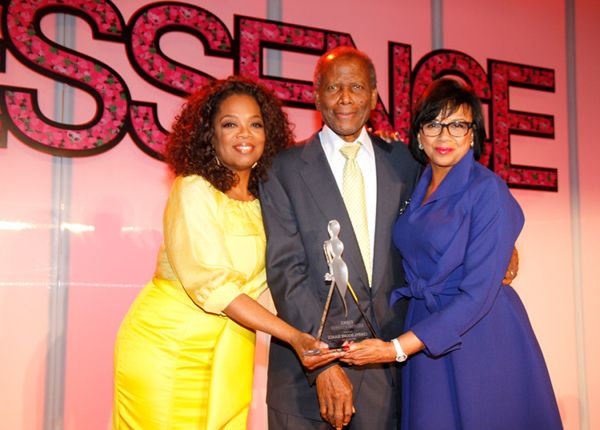 And Academy President Cheryl Boone Isaacs received the Trailblazer Award.
Tracee Ellis Ross, in an HONOR NYC suit, posed it up with Iyanla Vanzant as she got her life fixed.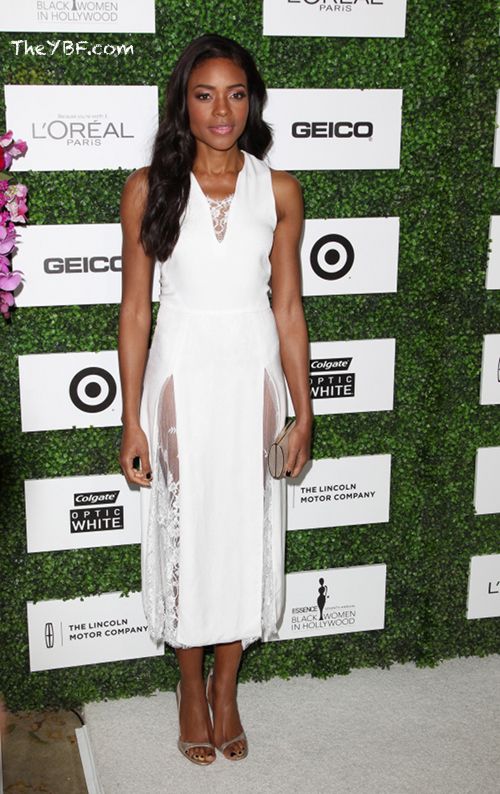 Naomie Harris looked chic in white with lace and sheer paneling.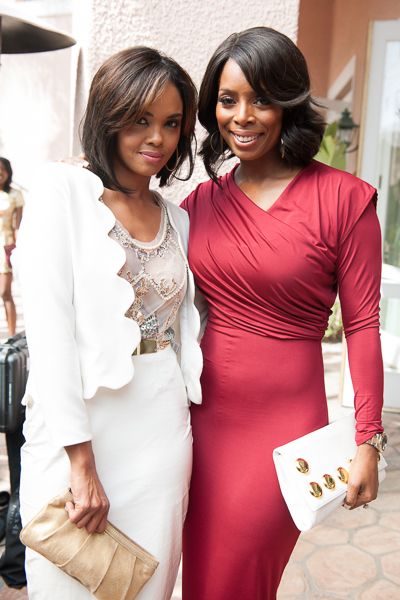 Both Sharon Leal and Tasha Smith looked gorge.
Garcelle Beauvais rocked the perfect color for her skin and accessorized with multi-colored sandals.  Loving this hair cut.
Regina King went a little church-y on us in this white floral satin ensemble...and round toe heels.
Tatyana Ali made a bright entrance with a white wide leg pant and yellow halter jumpsuit by Hidden Gems boutique, Ron Donovan shoes and Erica Courtney diamonds.  Great look for her.
"The Real" host Tamera Mowry showed off her slender post baby curves she's been working so hard on lately.  And also decided to go with a long wig for the carpet instead of her short new natural cut.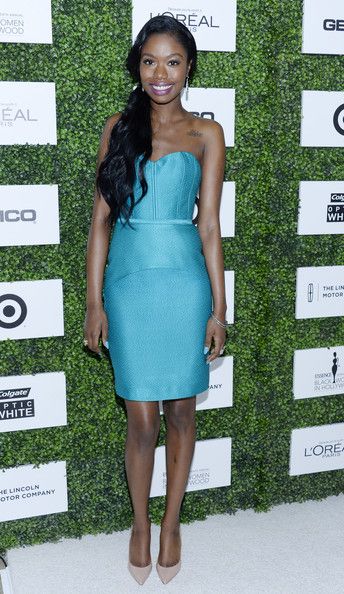 And Precious star Xosha Roquemore looked pretty in teal.
Photos: Getty/WENN/Brandy's IG/Tracee's IG/Lupita's IG/ Zsanae Davis / RedCarpetImages.net.