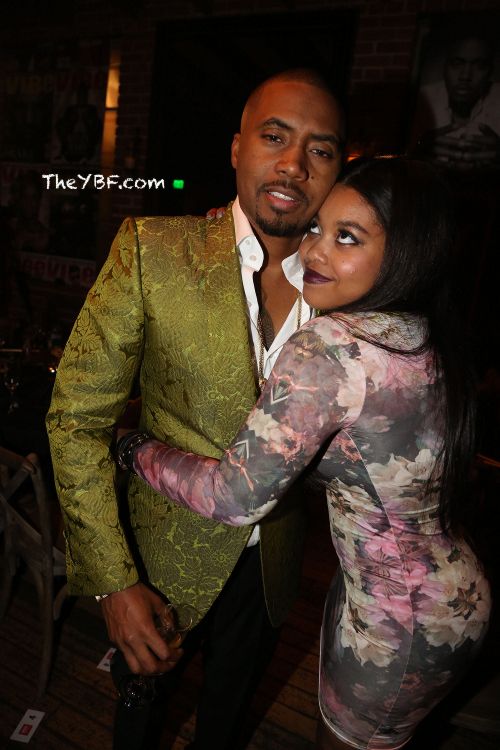 Though Nas' daughter Destiny is 19-years-old, his baby momma Carmen Bryan says she's still owed $11K and Nas is a "criminal" deadbeat dad.  Get the deets on their latest legal battle and listen to Dawn Richard's remix of Katy Perry's Dark Horse.   
For the fellas who think 'baby mama' drama ends once the child reaches 18-years-old...think again.  Carmen Bryan, the mother of Nas's 19-year-old daughter Destiny Jones, has filed legal docs claiming Nas owes her more than $11K in back child support and claims that he refuses to pay Destiny's college tuition and medical bills.
She brands him a "repeat criminal non supporter" and asked the judge to cite him for contempt (and maybe throw him in jail). Goodness!
But Destiny surely seems to be all about her Daddy.  She's often seen right by his side at events and tweeting about spending QT with him.  And really, $11,000 for Nas is not a drastic amount.  Is it possible that someone just found a technicality or easibly rectified error and is trying to make someone else look bad by filing papers for it...instead of simply bringing it to his attention? 
In other Escobar news, he recently sat down with COMPLEX to discuss his brand new store in Las Vegas called 12 AM RUN, his love of sneakers and their place in hip hop.  Here are the highlights:
So one of the biggest sneaker hip-hop songs was "My Adidas" by RUN D.M.C. Do you remember how that song affected you?

Nas: We was already buying shelltoes. That was the hottest shoe, hands-down. When they made that song, it was right on time. It just went crazy. You had to have shelltoes. If you just got up on shelltoes when RUN-D.M.C. did it, then you were blown away, like what is this?

They had the blue stripes, red stripes, black stripes, you know. RUN-D.M.C.'s name should be on every pair of shelltoes right now. That may be my number-one sneaker. My favorite sneaker of all-time.

How long would you say you were into sneakers? How big is your collection?

Nas: Since I was a kid. My collection's too big. It needs its own house. I have storage for my sneakers.

What does the name 12AM RUN mean?

Nas: To me, 12 a.m. sounds like go time in Las Vegas. Run, that's athletics, feet, sneakers, movement. You hit the ground running here in Vegas.

This should be a Mecca for everything to happen in sneaker culture. I want Michael Jordan to throw his next party there. - Nas

Rappers are starting to actually design sneakers now. What are your thoughts on deals like Kanye/adidas or Drake/Jordan?

Nas: That's what we do. That is what we are all about. If those sneakers come out and kill, it just shows how much hip-hop guys love their shoes. Hip-hop guys should be behind the design of sneakers.

NS: I think its also hip-hop guys not doing it for hip-hop guys anymore. This is mainstream. I think that is pretty dope too. These guys are doing their signature shoes and it creates a bigger buzz than anything. For all of last year people talked about the red Yeezy. And it wasn't just the hip-hop crowd, it was everybody. It shows the power of sneakers.
In other music news.....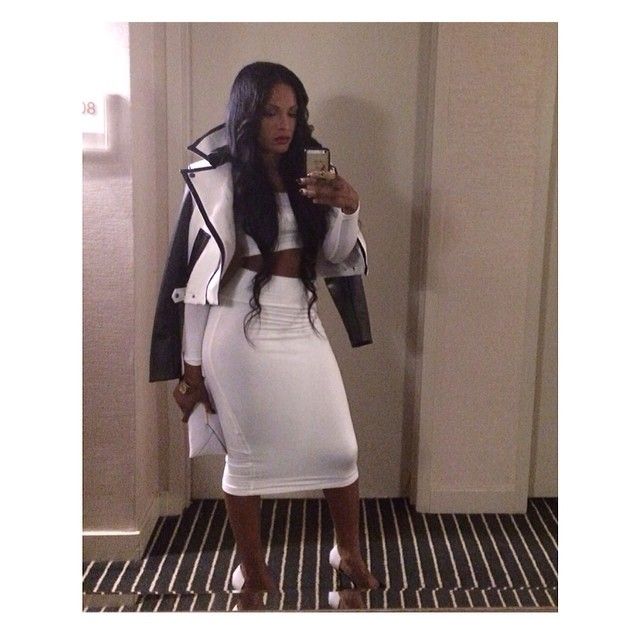 "Goldenheart" singer Dawn Richard (in case you didn't recognize her above), who recently reunited with Danity Kane, has lent her unique talents to a remix of Katy Perry's Dark Horse.  When speaking about the track, now called the "Unicorn Remix", Dawn said:
"It's always fun to be in the lab with NoisecastleIII. We were working on the Danity Kane project and decided to randomly take a break and this happened lol… For shits and giggles… Something only the hearts can appreciate. We always do things with our little twist. Done in true heart music form."
Listen to the "Dark Horse (Unicorn Remix)" below:
The Randomness:
1.  Is she serious? Paula Deen compares struggle to Michael Sam's coming out as gay. Story,
Photos via Destiny Jones Instagram/Dawn Richard's IG