"Scandal" creator Shonda Rhimes threw Kerry Washington a baby shower at her own home on Sunday.  See the cute photos and get deets about the fabulous celebration inside...
On the heels of her stunning appearance at the 45th Annual NAACP Image Awards this weekend, (where she picked up the award for Outstanding Actress in a Drama Series for "Scandal"), the glowing Kerry Washington was feted with a glamorous baby shower at  Shonda Rhimes' Hancock Park home on Sunday.
You already know Shonda had it decked out with all the best for the woman who's helped Shonda have one of the biggest hits of her career.
Tracee showed up with gifts for her girl and looked Sunday-brunch-slash-tea-slash-baby shower ready.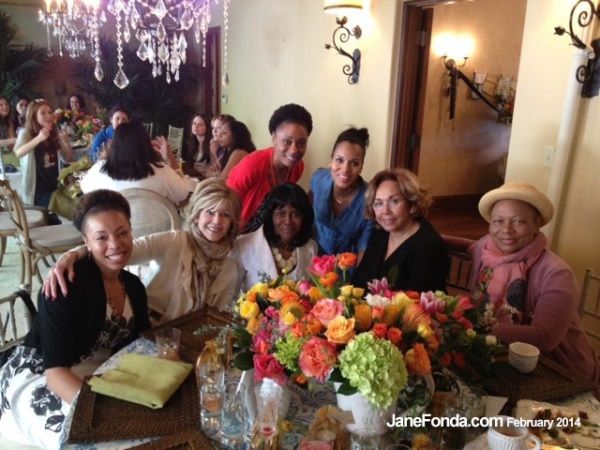 Hollywood legends Cicely Tyson, Diahann Carroll and Jane Fonda were also among the guests. 
Tracee Ellis Ross, Kerry's mom Valerie Washington, Kerry's sister-in-law Udo Asomugha (in red), Kerry's mother-in-law, Dr. Lilian Asomugha and Kerry's 'Scandal' co-star Darby Stanchfield were also there.  An eyewitness spoke about Kerry's arrival to E! News saying,
"She looked beautiful and had very little makeup on...She was with her mom Valerie and was met by several family members inside."
The party began around 11am and ended around 3pm, with the eyewitness revealing,
"Kerry looked ecstatic to be surrounded by so many family members and friends. She loved mixing her work friends with her family and having everyone get to know each other. Shonda was very gracious to host everyone and Kerry was very appreciative. She felt so loved she didn't want the day to end...She gave Shonda a huge hug and kiss before thanking her and leaving with her mom."
Oscar-winning actress Jana Fonda blogged about the baby shower and shared an intimate moment with Kerry and her mom. 
"It was a wonderful party with guests being asked to go into a photo booth and take 6 different poses that were then mounted on a black paper where we could write a message; signing a diaper (I wrote "I hope everything comes out alright!"), putting signed thumb prints onto a drawing of a tree—I had no idea there could be so many nice ways to commemorate the up-coming event and leave loving memories for mom and baby.

I hadn't seen Kerry since she was pregnant and as soon as I saw her with her gorgeous belly I starting crying. Then Kerry's mother spoke, giving words of wisdom to Kerry and the rest of us about how to raise a baby to be a happy, fully realized, person. I started crying again (and it wasn't because I wanted to go back and do my own raising of my own kids all over again with more wisdom, though that did press in on me) . . . it was because her words moved me."
Congrats again to Kerry and Nnamdi!
The Randomness:
1.  Tamron Hall was just named as the official co-host of the 3rd hour of "The Today Show".  She's the first black female anchor on the NBC morning show.  STORY
Photos via Janefonda.com/Rocstar/CPR/FAMEFLYNET PICTURES