Kanye West and his fur were spotted in SoHo yesterday before he left out for his last show on the Yeezus tour.  And he made sure to celebrate with his fiancee and more than a litle bit of Prada....
Mr. West brought his Yeezus tour to the Nassau Veterans Memorial Coliseum in Uniondale, New York Sunday night.  And for his last stop, his fiancee Kim Kardashian, her mom and sister, Kourtney, were all in attendance to support the newest member of the fam once again. 
But right before the Kardashian-West clan migrated right outside of NYC, Kanye was spotted in his big as ever fur shopping it up in SoHo.  PETA who?
It seems he bought his new luxe coat while out shopping, because earlier, he was spotted leaving his apartment with Kim--on their way to do a shopping spree--without it: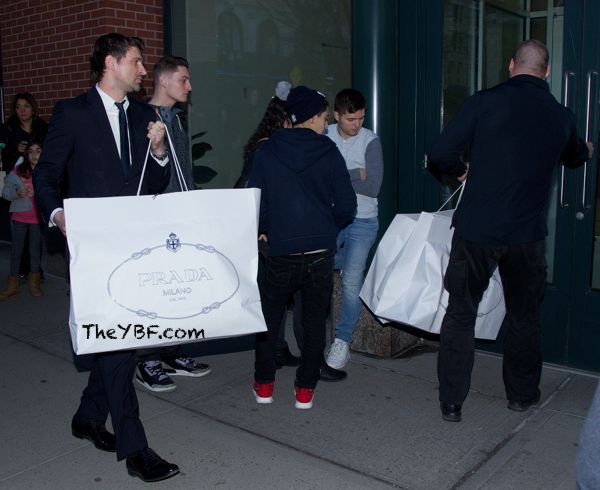 And their suited up security and doormen helped carry all the PRADA bags into Kanye's apartment.  We're sure it's tons of black, white & nude apparel to keep the couple happy.
Must be nice...
The tour will continue with five concerts in Australia this May.
The Randomness:
1.  Adele& Prince may be doing a collabo for the "Rolling in The Deep" singer's upcoming third album!  STORY
Phoos: WENN/FAME