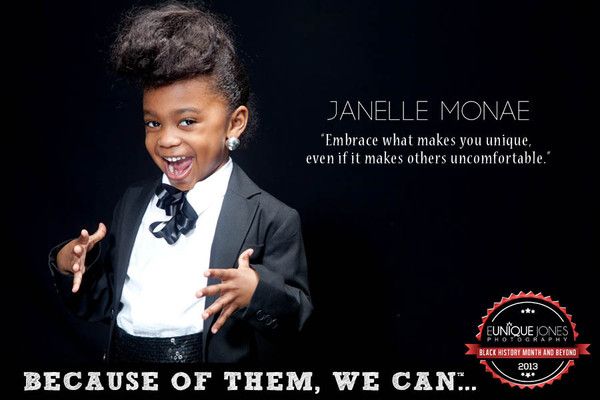 You've likely seen the viral pics over the last year from the Because Of Them, We Can Campaign, headed by mom of two Eunique Jones, where absolutely adorable black children from all over the country portray the most amazing YBF icons and celebs.
In honor of Black History Month, we're premiering the Because of Them, We Can campaign's new "Janelle Monae" video, which is part of the new video component of the movement.  Check out the cuteness inside....
About the adorable Janelle Monae salute, Eunique said, "I wanted to bring the photos to life and showcase how some of the individuals who we've covered over the last year have set examples that still have relevant applications for us today." 
She continued, "I chose to feature Janelle Monáe because she is a present day example of what it means to be comfortable in your own skin. Janelle is uncompromisingly unique and shows that you don't have to conform or change who you are in order to make other comfortable. We need more role models like her and I don't believe that an individual should always have to be deceased or old to honor and recognize the contributions they're making that push others forward. Just look at how she inspired these little dancers! And they aren't even teenagers yet."
So after having inspirational "Primetime" singer Janelle in the 2013 picture campaign, the video treatment is below:
About the campaign, as told by Eunique Jones herself:
The Because of Them, We Can campaign was birthed out of my desire to share our rich history and promising future through images that would refute stereotypes and build the esteem of our children. While I originally intended to publish the campaign photos, via social media, during Black History Month, I quickly realized how necessary it was to go further. With so many achievers to highlight, and thousands of children to engage and inspire, 28 days wasn't enough. On the last day of February, with just 28 photographs in my collection, I decided to resign from my job in order to continue the campaign. On March 1, 2013, after most national and local conversations about Black History and Achievement ended, I released a photo of a mini-inspired Phyllis Wheatley and began the journey to continue the project for a full year.

A year later I have come to the conclusion that even 365 days aren't enough. What began as a mother's passion project quickly evolved into a movement. Today we are committed as ever before to encourage and empower people of all ages and hues to dream out loud and reimagine themselves as greater than they are, simply by connecting the dots between the past, the present and the future.

 
Take the Because of Them, We Can Pledge HERE.  And check out much more from the campaign and who else has been saltuted HERE.