Remember Jay Z's black and white Magna Carta Holy Grail tour jersey that read TOM FORD in big letters with the number 61 (a nod to designer Tom Ford's birth year)?  Well, Mr. Ford himself has taken that knock off of sorts...and knocked it off himself to the tune of $6,500.
Check it inside...
During the Tom Ford show during London Fashion Week on Monday, designer Tom Ford debuted a sequined jersey dress--in both black and orange--with his name across the front, the number 61, and Molly crossed out at the bottom. 
If it looks familiar, that's because Jay Z rocked this design in a jersey t-shirt version as one of his MCHG tour tees.  And it was in reference to his "Tom Ford" track that denounces the drug Molly....but sings all the praises of the American designer.
Jay's jersey was created by BBP (Black Boy Place), a French brand founded in 2010.  The tee was not done by designer Tom Ford, even though his likeness is represented.  The company sells that tee and many others (many in relation to Jay Z's MCGH references) for $65.  But it looks like Mr. Ford is getting in on the knock-off game that his brand is already involved in.
He told The Associated Press, "I just took the knock off from online, and knocked it off."
Then he told Style.com just how he did it:
"[Jay Z's original jersey] sells for $65." Ford chuckled an opportunist's chuckle. "My knockoff will sell for $6,500."
That article continued:
Those Number 61 outfits featured a crossed-out "Molly." Jay Z raps "no" to the current incarnation of Ecstasy, but "yes" to Ford, fashion being the ultimate high 'n' all. His acknowledgment of the "accolade" may have been intended as ironic, but it was also a reminder of Ford's ongoing engagement with excess.
Can't even be mad at that.  We hear from unconfirmed sources that Tom Ford tapped BBP to help him create his version of the sequined football jersey dress.  And the French company is now working on 600 pieces in honor of Justin Timberlake's "20/20 World Experience Tour."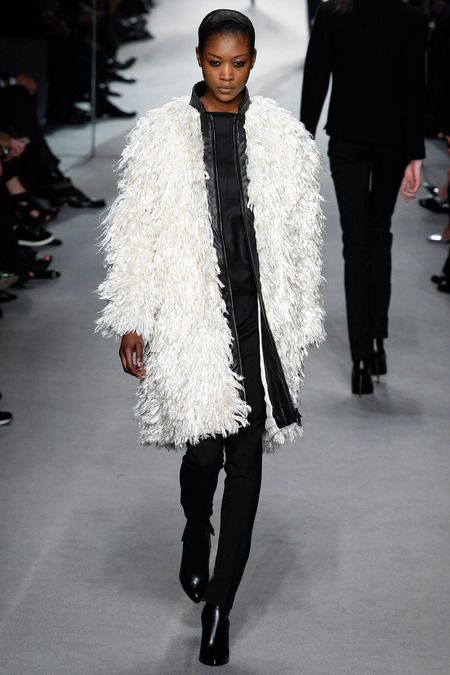 By the way, remember Betty Adewole, the new face of TOM FORD Beauty we told you about last month?  She also walked in yesterday's show looking gorgeous.
Photos: KodakLens' Instagram/Style.com