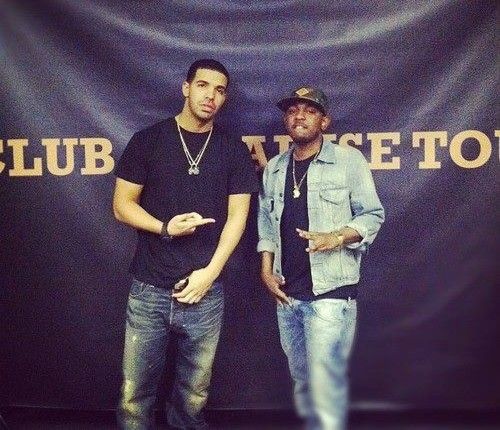 Drake says Macklemore's public apology to Kendrick Lamar was "Wack."  Find out what else he thinks inside and watch Diddy in Fiat's new promo.
You'll recall that Macklemore made a public apology to Kendrick Lamar after he won 2014 Grammys for Best New Artist and swept the three rap categories, tweeting "You got robbed. I wanted you to win."  In the latest issue of Rolling Stone, Drake took "issue" with the tweet, saying "that shit was wack as fuck." He added,
"I was like, 'You won. Why are you posting your text message? Just chill. Take your W, and if you feel you didn't deserve it, go get better — make better music. It felt cheap. It didn't feel genuine. Why do that? Why feel guilt? You think those guys would pay homage to you if they won?"
So how does Drake explain Mackelemore's win?
This is how the world works: He made a brand of music that appealed to more people than me, Hov, Kanye and Kendrick. Whether people wanna say it's racial, or whether it's just the fact that he tapped into something we can't tap into. That's just how the cards fall. Own your shit."
In sum, he also felt the apology didn't go far enough. Why stop at Kendrick?
"To name just Kendrick? That shit made me feel funny. No, in that case, you robbed everybody. We all need text messages!"
Read a portion of the article here and pick up the issue on newsstands this Friday.
In advertising news....... 
In Fiat's new 2014 global campaign, Sean "Diddy" Combs touts the new four-door Fiat 500L, while also promoting his own brand of "performance water" Aquahydrate and his new cable TV network Revolt. If you're wondering why Diddy promots so many products in the ad, Chrysler chief marketing officer Olivier Francoiscalled it "triangulation of brands."
"Fiat could never write a check for an appearance from Diddy. But we are able to offer something instead. The connection. The exposure. The triangulation of brands. Is it product placement? Of course it is. It's Diddy's products in our ad. But it makes as much sense as water in the desert. And in return, we get something unique. Him."
The promo also features Pharrell Williams' "Happy" in the background.
Photo via Rolling Out