Celebs flocked to the red carpet at the Staples Center for the biggest night in music.  We're rounding up all the YBF celebs who showed up and showed out for the 2014 Grammys, and we've got some ish to say about everyone.
Our full red carpet coverage is inside (and will be updated constantly)....
Roll up your partitions.  Because Beyonce Knowles Carter hit the carpet in the press room after her performance with the full intent to shut it down.  And she kept it sexy in this Michael Costello Couture white lace and sheer gown.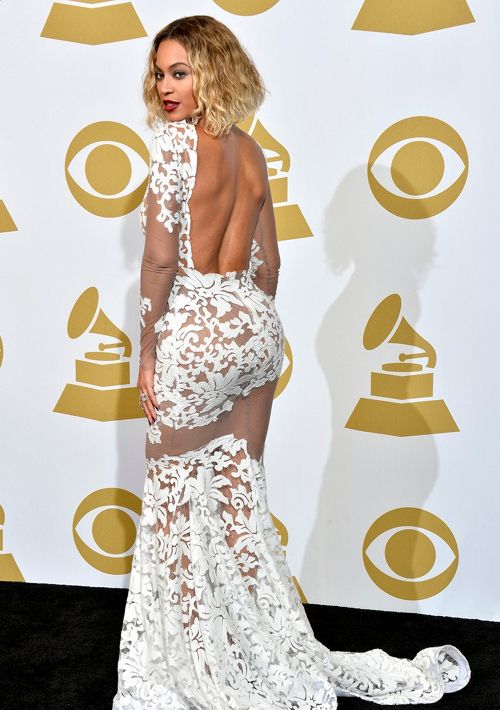 She dried out her wig from earlier, tossed on a ridiculous amount of rings, and slapped on her fave red lipstick to complete her look.
Ashanti was mad late (according to her tweet) and running on CP time.  So she almost missed the official red carpet, but posed it up anyway and posted her own snap:
Loving her hair.  And it stops about there. (She's wearing a Dar Sara dress by the way.)
Pharrell, who hit the carpet with his wife Helen, stirred up the red carpet with his choice of a hat.  Some folks wondered if he jacked the Arby's logo...while others asked if he was trolling for forest fires.  SMH.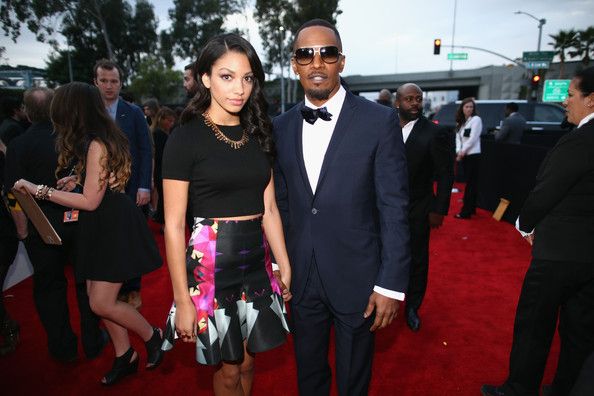 Jamie Foxx was there to present...and apologized to Jay Z on stage for lusting after his wife during her "Drunk In Love" performance.  Jamie brought his gorgeous daughter Corinne Foxx on the carpet.  Corinne revealed she'll be 20 in February.  And when asked if Jamie's the protective daddy, she said that Mr. Foxx pretends to be strict in the beginning with guys she dates, but then becomes friends with them soon after.  Ha!
Ciara is making this baby bump work for her...and it's giving her more publicity than even she probably expected. And she's looking more gorgeous than ever thanks to these new baby curves:
CiCi showed up with her reportedly 7-months-pregnant belly perfectly tucked under a custom gold embellished Pucci dress. 
She revealed on the red carpet that it took 3 fittings to get it perfectly right, and one fitting went down in Milan. 
On what she said she was happy about this go round while hitting her first MAJOR carpet with a baby bump: "I got to eat a club sandwich and friend and didn't have to worry about it.  The bigger the bump the better!"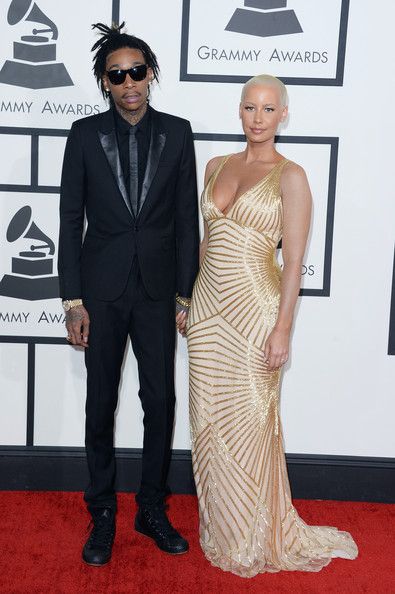 Speaking of hot mommies....Amber Rose showed off what all her hard work has been going toward this past year.  The mommy of Sebastian and wife of Wiz Khalifa showed up in a gold Naeem Khan gown that gave us a peek at her bangin' post-baby bod. 
Just one year ago, she was on the GRAMMYS red carpet about to pop with Baby Bash.  And tonight, she's stepped into that bad ass snapped-back Housewife role quite nicely.  She's looking like Wiz's very own Grammy in this sexy gold number.  Oh, and she covered up her tattoos for a clean look.  Thank 'ya Jesus.
Wiz rocked YSL on the carpet.  And when both were asked if more babies are in the future, Amber gave an ecstatic YES, because she loves being a mom: "Definitely, 100%. I want more babies."
Tamar Braxton looked red hot in a Michael Costello creation.  The pointed & strapless, fishtail hem number fit her post-baby body like a glove.  And it looks like either a spray tan or some time in somebody's sun happened between Friday and tonight.  This wig and bronzed hotness is definitely working for her.
WORK Tamar!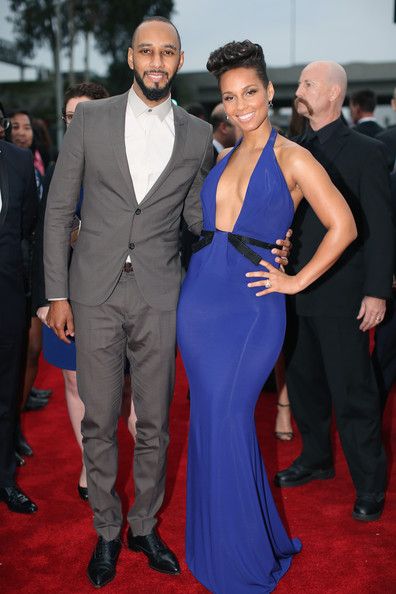 Alicia Keys had a busy year of touring and performing.  And after copping her 15th Grammy in today's pre-show, Mrs. Beatz hit the carpet with her husband Swizzy in this royal blue, plunging neckline Armani Prive gown.  She knows what works for her.  Great look.
CeeLo Green brought his daughter on the carpet.  All white everything?  Or is a baptism occurring?  Who knows...
Tyrese hit the carpet with his "artist" Kristal Lyndriette.
Miguel hit the carpet with girlfriend Nazanin.  And he revealed that his sexiest moment of 2013 involves the mirrors above the bed in the home he and his hot girlfriend just moved into together.  Oww!
 
Paula Patton and Robin Thicke....appeared at least somewhat sober on the carpet.  Robin, rocking Armani, was a performer tonight.  And his wife Paula was another miss for us.  This see-through zebra number reminded us of something a hood chick would wear to the prom.  #SorryNotSorry
Birdman showed up with his Young Money artist Paris Hilton.  Sigh.  Paris showed off what she shows off best...not her music...but her body. In a revealing House of Milani dress, the socialite showed up to talk about her album that she, Baby, and Wayne are still working on.  You know, in case you were twiddling your thumbs just waiting on an update...
Mack Wilds popped up on the carpet--in his Dwayne Wayne flip shades.  He grabbed his first Grammy nomination for his first project as a singer/rapper.
Smokey Robinson found a face to put on today and hit the carpet with Aerosmith's Steven Tyler....who found a wig to throw on today (at least we hope that's a wig).
Roc Nation's Rita Ora took a risk and didn't wear a long gown this time around.  She opted for a knee length sexy Lanvin dress made up of greenish gold metallics.  Loves it.
Not sure if Madonna called herself doing damage control after calling her OTHER son the N-Word on Instagram recently. But, she brought her adopted son David on the red carpet tonight...in a semi-matching tux.  Oh.
Fanny Fanny Fanny.  Thought she had on two different dresses at first glance.  At second glance, realized it was just one badly designed dress by Isabel Toledo.  Or maybe it's one of those dresses that look hot on the runway...but not so much in real life.
Not feeling the concoction of black mesh, lace and embroidery with red cleavage straps she's got going on here.  But we kinda see what she was going for....
Meanwhile, Chrisette Michele nailed the chic print on print complete with multi colors look.  Both her jacket and pants are from the eclectic design house Etro, and we're loving that she rocked pants on the carpet.  The risk paid off.  White pumps (which we usually hate) topped off the look perfectly.
Ziggy Marley brought his woman on the carpet.
And our fave correspondents kept it pretty chic on the carpet:
Rocsi Diaz took a page out of Lupita's book and rocked an edgy white Cushnie Et Ochs dress.  E!'s Alicia Quarrels went for a sparkly fringed look.  And Shaun Robinson looked polished in a white sheath dress with a scalloped design.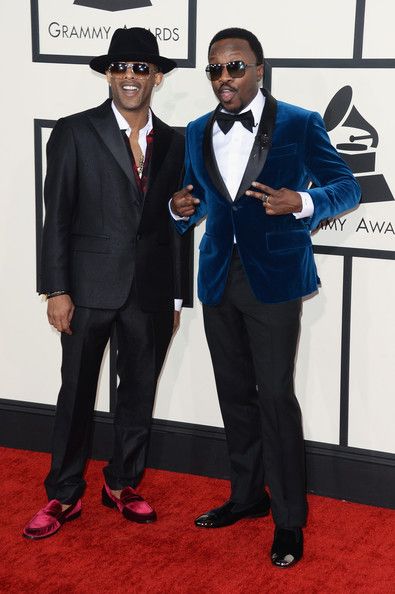 Anthony Hamilton hit the carpet with hip hop artist Ed D. Kane.
And it looks like Faith Evans slipped on her cougar paws for tonight's red carpet. She's looking FAB:
And she rocked a stunning black, front slit, curve hugging dress and showed 40 is totally the new 20.  Well, maybe the new 30.  She hit the carpet with her producer who goes by My Guy Mars.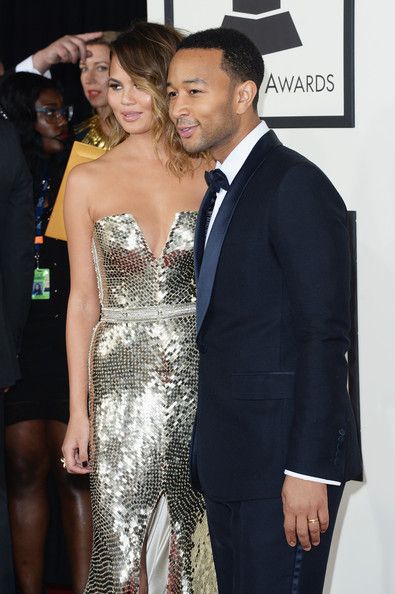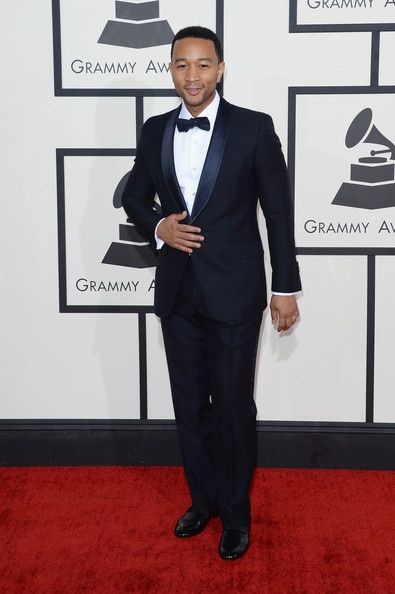 John Legend, dressed in Gucci, was there to perform "All Of Me" on the GRAMMY stage.  But first, he hit the carpet with his wife, Chrissy Teigen, who looked amazing in a strapless & sparkling Johanna Johnson creation.
Nelly looked uncomfortable, yet dapper, as he hit the carpet in Dolce & Gabbana.
And Dionne Warwick randomly hit the carpet with Billy Ray Cyrus.  If you're asking, 'WTF is going on here?'...don't worry.  It's all for the sake of music.  The two just recorded a song together called "Hope Is Just Ahead" and it will be out soon.
And About Last Night star Kevin Hart hit the carpet with his hot bodied girlfriend Eniko.  He stopped by the E! booth and was hilariously singing Beyonce's "Flawless".
Photos: Anthony Tilghman/Wireimage/Ashanti's IG