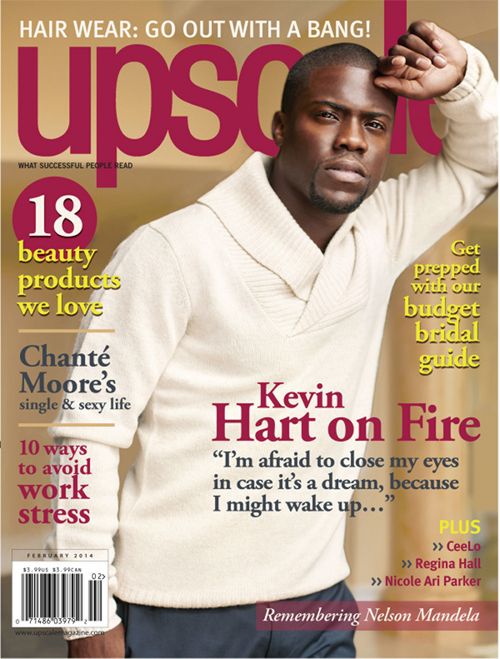 He's totally on fire these days.  Kevin Hart is starring in umpteen movies in 2014 (as well as 2013), and he's talking all about his dream career and the rumors about leaving his black ex-wife for an "exotical" girlfriend in the February 2014 issue of UPSCALE magazine.
Check it inside...
The Ride Along star and upcoming About Last Night star thinks his career is just as dream-worthy as we do.  Kevin Hart seems to have taken Hollywood and the comedy world by storm.  And yes, he's scared it'll all disappear if he blinks.  Maybe that's why he works harder than most in Hollywood.
Here's a few highlights on everything we've been wondering about: His fabulous career success, his feelings on his ex-wife Torrei joining "Atlanta Exes", what caused his divorce, and his thoughts on rumors that he left his black ex-wife for the typical "exotic" new girlfriend Enikko Parrish (she's actually Jamaican!):
On his career success:"I know how much I've put into my craft. And thus far, I don't feel like I've half-assed my career at any point. And that is why I'm able to sit back and smile. Seeing people go crazy when they see my trailers come up and hearing them whisper, 'I can't wait to go see this'—it's a good feeling."

On the rumors about his girlfriend and ex-wife:"I read so much stuff that Black women say, especially about my relationship. 'Oh, he left his Black wife to go be with some exotic chick.' First of all, my girl is Black. She's Jamaican. But they say it as if they know what me and my ex-wife's problems were. When we first got together, our relationship was amazing. We got married young and our s*** got rocky. In my divorce, I stood up and said to my ex-wife, 'Hey, I messed up. This had nothing to do with you. I didn't understand what marriage was. I cheated. I was wrong. We couldn't fix it, it got worse. I stepped away because I didn't want it to get any worse. You're the mother of my kids, I don't want to hate you. And the only way that's gonna happen, is if I'm the bigger man and I leave.' I think that was a very mature thing to do."

On ex-wife Torrei joining the cast of VH1's Atlanta Exes:  "I gave her my opinion on why those shows are put on air. I said, 'Ask yourself if you really wanna get caught up in that world, because it's not all glitz and glamour. You have no power over that editing.' I just tried to give her the best advice based on my experience. She felt it was a good opportunity and she wanted to do it. At the end of the day, it's my job: that's the mother of my kids, I'm gonna support her. I still love her, I'm not gonna see her out there doing bad. So you just back the decision and hope that it becomes a good thing for her. "

On transitioning from a comedian to rom-com star: "People usually get to see me in these funny, crazy forums. So to see me in a relationship realm on camera is refreshing because I'm bringing a certain level of honesty to it, but I'm doing it in such a crazy way that you catch yourself laughing at real life situations."
Kevin DOES keep it all the way 100, we must say.  Meanwhile, Ride Along is already set to get a sequel, and will likely nab the #1 spot a second time in a row as there's little to no competition this movie weekend.
BONUS: ABC just announced they will be adding a new comedy to their lineup that is cast-contingent.  And it's based on Kevin Hart's life.  Nice!