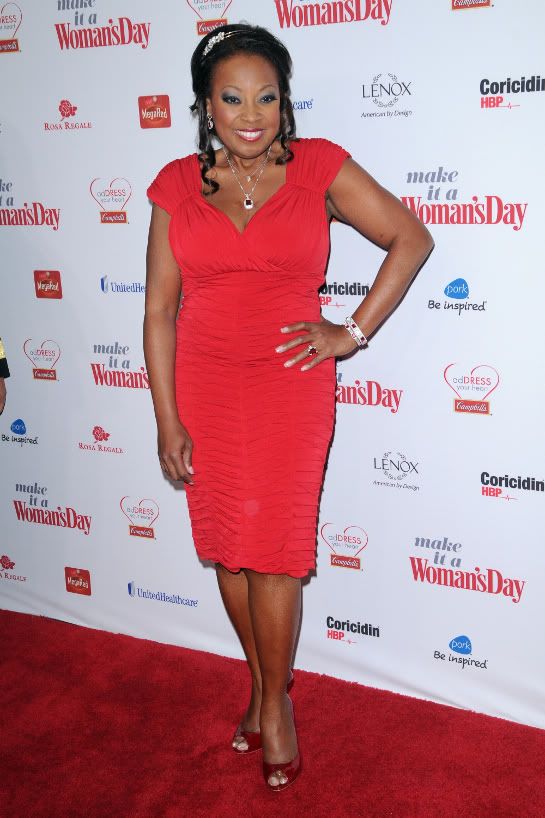 After a five year absence, Star Jones returned to "The View" today, as a guest, for a semi-uncomfortable interview about her weight, heart disease and why she left the show.  Watch it inside.....
It wasn't always pretty, but Star Jones faced the ladies of "The View" today helping raise awareness about heart disease, gastric bypass and talking about her departure 6 years ago.
Barbara Walters commented: "I say this genuinely: I am so happy to welcome back Star Jones." 
SIDEBAR:  How geniune it came off is up for debate.
Star commented on the past five years saying, "You've got a new  new couch...you've got two black girls. Sherri and I are not the same person. Elisabeth had more children. Joy got married!"
Star tried to stop Ms. Walters when she tried to talk about the past saying, "Are we really going to go here, Barbara? Do we care at this point?! I honestly don't."
But Star went ahead and said the reason she left the show the way she did was (in addition to her contract just not being renewed), "It was ugly. ... It was a bad emotional time.  I made the decision that I wanted to go out on my own terms."
Then Barbara talked about Star's gastric bypass saying, 
"Just to clear it up, we tried to protect you.  We did lie! (Joy Behar also interjected that Star asked them to lie about the gastric bypass.) We were very worried about you." 
Babs later added, "You look great. You look healthy. And we really are happy that you're back."
Also, Star's book Satan Sisters, is being made into a VH1 movie that will be produced by Suzanne de Passe.
Watch the interview below: