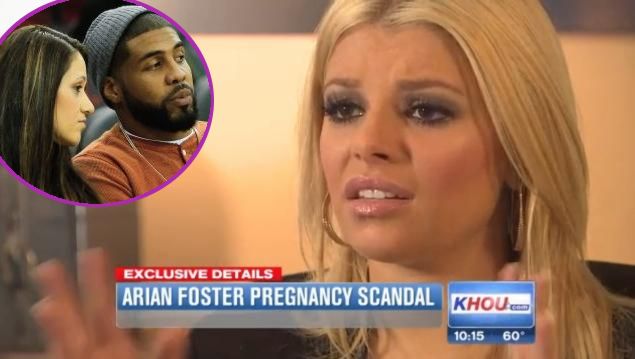 Well this is sure to put a needle in her "he harassed me about getting an abortion so I'm suing" case.  NFL baller Arian Foster's pregnant mistress Brittany Norwood was reportedly caught on tape saying Arian DIDN'T harass her about an abortion.
Check out the foolery inside...
Opportunist Brittany Norwood is about to have her suspect sob story and lawsuit implode.  After making tv rounds begging for sympathy that married Houston Texans Runningback Arian Foster "got her pregnant" almost 5 months ago, her B.S. is starting to stink.
University of Houston student Brittany is suing both Arian and his brother, not for child support, but for claims that they have been trying to strong-arm her into an abortion.  Not sure how much water that lawsuit holds, but the latest taped conversation to get released is surely about to EF up her plans.
TMZ reports that Brittany spoke to Arian AFTER she filed the lawsuit...and during the convo she said many times about how he DID NOT harass her about an abortion.  And she even throws her lawyer under the bus saying she never signed off on those claims.
Norwood spoke with Arian and ADMITTED the claims in her lawsuit are BS ... saying bluntly, "I never once said that you told me to get an abortion."

During the conversation, Norwood seems to be throwing her lawyer under the bus ... saying she never signed off on some of the bombshell allegations in her suit and didn't want to pursue the restraining order she asked for in court docs.

"I'm not going to sit here and be like okay with -- those papers said, 'harassment,' like 'in fear.' I was never in fear of my life around you. Like, I didn't f*cking need a restraining order."

She continued, "You never harassed me. Like, I will tell him that verbatim. Like, as I have told him that, and that something in here needs to be f*cking changed because it's not fair, because -- and I said that. I was like Arian's not a monster."

"Like, I'm sorry that those papers ... because I was told that they weren't going to go anywhere. He said, you know, this is just to get the ball rolling, and then if we settle outside of court, we settle outside of court and it never goes public."

Brittany went on to praise Arian ... saying, "Like, I love you and you're still the father of my child ... You think I'm going to let anybody like desecrate your name, especially if my baby has Foster tagged to it? Come on."
Well that's interesting...since she's surely going with the "harassment" sob story as she makes her media rounds.  When Brittany was asked about her flip flop behavior, she said she didn't remember that convo with Arian.  Sure you didn't.  She also said:
"I don't care what the world thinks of me, at the end of the day, I'm educated, I work hard to make a life for my son, be a role model, and [my son's] super woman."

"The truth will always come out. At the end of the day, Arian knows the truth and I know the truth. It's none of the world's business anymore."
Ok boo....
Fellas: Figure out what a condom is and wear one.  ESPECIALLY if you're disgusting enough to be cheating on your wife.  Because this is the type of ish you get yourself involved in.  Please and thank you.
The Randomness:
1.  "Sleepy Hollow" star Nicole Beharie allegedly owes her stylist some money.  STORY
2.  Tyra Banks Confirms Sequel To Disney's "Life-Size" .  STORY
Photos: KHOU News/Getty